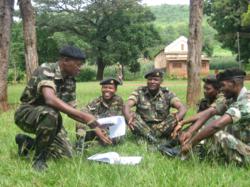 "We are grateful to Fridge Freeze/MedAwareness for partnering with us on this project," stated PCI CEO George Guimaraes. "Their equipment will allow continuity in our work when electricity is unpredictable."
Lilongwe, Malawi (PRWEB) February 08, 2013
Fridge Freeze, Inc. through their non-profit organization, MedAwareness, has generously donated medical refrigerators to PCI (Project Concern International) to provide a reliable cold-chain solution for the PCI and Malawi Defense Force (MDF) HIV/AIDS program. This program focuses on reducing HIV among Malawi soldiers and their partners through sustained behavior change.
The program provides medical and emergency services, as well as testing for HIV/AIDS and TB, to all twelve military bases and the surrounding local community. MedAwareness's dedication to addressing safety issues surrounding improper refrigeration of medical materials and Fridge Freeze, Inc.'s portable refrigerator technology, which allows laboratory grade refrigeration to work independent of any unreliable electrical infrastructure, enhances PCI program's ability to store critical medical supplies. By providing dependable refrigeration for temperature-regulated medical articles, MedAwareness's donation allows PCI to continue to ensure that vital care is reaching those who need it most.
An estimated 33 million people are living with HIV globally, while almost 1 million of these people live in Malawi. The prevalence of HIV/AIDS in Malawi caused severe damage to Malawi's social and economic infrastructure. Farmers and workers weren't able to provide food and support their families, and children could not attend school, because they were infected with HIV or were caring for a family member who was. In recent times, a five-year National Strategic Framework to combat AIDS was implemented, as well as a National AIDS Policy, in an effort to decrease the prevalence of HIV/AIDS. Although the Malawi government has made commendable efforts to increase treatment accessibility to HIV/AIDS patients, and improve prevention initiatives, the scale of the epidemic and shortage of resources have hindered progress.
PCI's partnership with the Malawi Defense Force focuses on assisting and educating those most at risk through engaging senior leadership officials to play a significant role in reducing HIV prevalence among soldiers and their partners. PCI's program focuses on building an effective peer education program by extending the current network of educators to include spouses and teenage children, as well as defense force and civilian personnel, to emphasize the importance of monogamous long-term relationships, and the importance of using a condom. PCI's HIV/AIDS program also provides services including:

Home-based care and outreach
Antiretroviral theory
Access to nutritional food
Support groups and counseling
Economic empowerment activities
Support for caregivers and orphans
Celebrating its 50th anniversary in 2011, PCI (Project Concern International) is an international health, development and humanitarian assistance organization, operating in 16 countries worldwide. PCI is dedicated to saving lives and building healthy communities around the globe, benefiting over 6.7 million people annually in Asia, Africa and the Americas. Funded by federal grants and private support, PCI's current annual budget is nearly $50 million and the organization has 600 employees worldwide. PCI's headquarters are located in San Diego, CA and also has an office in Washington, DC and a Seattle, WA representative.