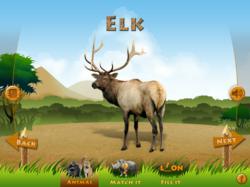 (PRWEB) February 10, 2013
Dev IT Solutions launched a new mobile application "Wild Planet" application for enhancing the learning capacities of kids and others too. The application provides knowledge about all animals from every continent to all. The application is very useful to make kids learn new animals which may not be found in many books but easily accessible in Wild Planet. Hunting for rare and extinct species of animals on animal channels and books can be time consuming. All information on one domain saves times and increases the learning efficiency of the user.
Speaking on the same, the spokesperson from the company- Dev IT Solutions said, "Wild Planet is one application which is thoughtful and highly interpretative which regrets the users from being a human. All the animals of every size and shape find place, allowing the user to know new animals on the planet. Information about the each animal image shown is mentioned in the application. Many unknown and known animals are added with some of the best images. Animals are an integral part of the planet which contributes greatly to ecosystem. Perhaps the amazing world of animals is converged in Wild Planet".
Further on the application development, the official added that, "This application even allows display of animal's spellings such that learning about animals can become intuitive. The learning process is like an exciting excursion with animal world in the insightful and new application".
Dev IT Solutions designed the score revelation step later in the app on matching the correct animal with the perfect spelling. This allows the user to remember the tricky spellings of animals with amazing iPad experience. Animal lovers sure have a reason to enjoy the app and let others do the same before planning the great safari trip next.
For more details please visit http://www.devitsolutions.com/
About Dev IT Solutions
Dev IT Solutions is one of the leading companies providing cutting-edge solutions for Mobile Application Development on various platforms. It has a dedicated team for Development of Mobile Applications i.e. iPhone Application Development, Android Application Development, Blackberry Application Development and Window Mobile Application Development.
Contact:
Dev IT Solutions Pvt. Ltd.
A-302, Shapth Hexa, Opp. High Court
S.G. Highway, Sola - 380060
1-760-621-3474
Email: info(at)DevITSolutions(dot)com
iPhone, iPad are trademarks of Apple Inc., Android is trademarks of Google Inc., Blackberry is trademarks of RIM Inc., Windows is trademarks of Microsoft Inc.