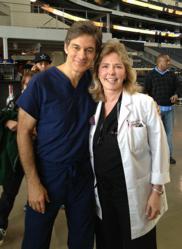 Dallas, TX (PRWEB) February 09, 2013
On January 19, Dr. Connie Casad participated in an event called Challenge America at Cowboys Stadium. Dr. Casad started her practice more than 25 years ago in Dallas offering gynecologic care, bioidentical hormone replacement treatment and aesthetics services. The event was to provide support resources to active and former military members and their families. Dr. Casad joined TV personality Dr. Mehmet Oz and 250 other local medical professionals who volunteered to give 15 minute physicals to all who desired one. The event was also open to civilians, drawing around 800 participants who attended Family Fitness Day.
Dr. Casad spent the day attending seminars, symposiums, and informational talks about mental health, employment, and housing and family issues facing military families. Dr. Casad said, "As a child of a World War II veteran, it felt good to be giving something back to the community and to local servicemen and their families as they transition back from the battlefield and resume their normal lives throughout the Metroplex."
At the event, Dr. Oz made his focus known that in addition to education and community outreach, the health of America can be changed one city at a time. After the physicians analyzed the results for cholesterol, blood sugar, body mass index, and blood pressure, Dr. Oz compiled those analyses into one report. The report was given to the mayors of Dallas, Arlington, and Fort Worth.
Dr. Casad shared the results of that report, "Forty–seven percent of the attendees were overweight, some severely. Forty-four percent were hypertensive. Vegetable eaters were scarce as two thirds indicated they had two or fewer servings a day of fresh vegetables and fruit. Belt salesmen would have had a field day with the 40/40 club; forty percent with waist sizes greater than forty inches. According to Dr. Oz, all these statistics can be reversed, and it is his hope that the one on one discussions will inspire people to live healthier lives, and that local leaders will see the need and responsibility to invest in additional public health resources. More than one participant was shocked to find that their present health challenges are serious and if not addressed, might quickly lead to life threatening consequences."
Dr. Casad reflects on the experience as an ability to affect change, saying, "I am struck that on a smaller scale my medical practice has a similar objective, not because we can change things one city at a time, but because we can help with America's health challenge one patient at a time." The staff at Park Cities Aesthetics will be dedicated to helping patients make a permanent change towards being healthier through evaluation, education, encouragement, and patience.
About the company:
With more than twenty years of experience, Dr. Connie Casad has developed a practice known for offering the latest in medical technology. Recognized as one of the area's most skilled female surgeons, she is both trained and certified as an instructor in many specialized medical procedures. Dr. Casad is board certified in obstetrics and gynecology by the American Board of Obstetrics and Gynecology, and is a Fellow with the American College of Obstetricians and Gynecologists. She is a member of the Dallas County Medical Society and the Society of Laparoendoscopic Surgeons. She focuses her practice on gynecologic care and aesthetic rejuvenation. Her goal is to develop the best professional medical relationship possible with her patients. Her office support staff is responsive to patient needs. Patient comfort and satisfaction are primary goals. Please visit http://www.conniecasadmd.com for more information.