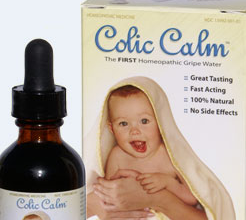 LONG BEACH, California (PRWEB) February 11, 2013
Colic Calm recently announced it is now available in 15,000 American stores, including major retailers like Babies 'R' Us, CVS, and Walgreens. The easy availability means more parents can have access to safe, effective relief for stomach discomfort.
As most parents know, the early days with a newborn baby in the house can be tough, with crying infants leaving parents feeling helpless. Unfortunately, gas and stomach upset are common among newborns, whether those babies are nursed or bottle-fed. Additional discomfort can come from teething pain, hiccups, or overstimulation meltdown, a condition common among autism spectrum children.
Colic Calm Gripe Water has been proven safe in infants and children, having been the only American product of its kind to be FDA approved for the treatment of stomach upset. An added benefit to Colic Calm Gripe water is that it is made in America.
"The great thing about Colic Calm is that it helps with infant reflux as well," said Colic Calm creator Jacqueline Lawrence. "Instead of parents using prescription reflux drugs on their babies (which have not been tested on patients so young), they can turn to a safe, homeopathic treatment. Colic Calm also helps baby's digestive system adjust to new foods, relieves hiccups and soothes stomach upset that often results from increased saliva production during teething."
For added convenience, Colic Calm is available for purchase online, both through the company's website and through sites like Diapers.com. The product includes an oral dispenser that allows the parent to extract just the amount needed to provide relief. Gripe Water is dropped between the infant's cheek and gums, and can be repeated every half hour for up to three doses, up to six doses maximum per day.
After administering Colic Calm Gripe Water, parents report infants are able to sleep through the night, which is both a relief for the child and his or her parents. Relief begins at first dose, so parents won't have to wait hours or days for treatment to work its way into the baby's system. Colic Calm has the added benefit of helping infants suffering from teething and hiccups.
Not only is Colic Calm recommended by pediatricians and pharmacists, it has been recommended in major magazines, including Well Being magazine and Family Doctor, a magazine written and read by healthcare providers throughout the country.
Each two ounce bottle of Colic Calm retails for less than $20 and can be purchased over the counter. Colic Calm recommends moms consulting with a physician to determine the exact dosage recommendation that will be most effective. Symptoms of gastrointestinal upset can become apparent as early as two weeks, and usually without warning. For this reason, Colic Calm recommends keeping its Gripe Water in the medicine cabinet for those late nights when it might be difficult to find a drugstore open.
For more information or to order Colic Calm Gripe Water, visit its website: http://www.coliccalm.com/.