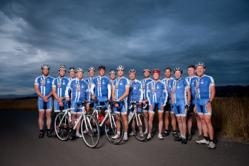 Garmin is already out over 1 month on this product and many retailers will be immediately sold out but we still have units left for those who move quickly
Bozeman, MT (PRWEB) February 09, 2013
Garmin Edge 510 is due out next week at Heart Rate Watch Company and units are still available if you move quickly.
"Garmin is already out over 1 month on this product and many retailers will be immediately sold out but we still have units left for those who move quickly", says Rusty Squire, President of the Heart Rate Watch Company. He adds, "We've evaluated this new model and it is the single most improved new bike computer on the market this year".
The Garmin Edge 500, the predecessor to the new Garmin 510, was the most popular bike computer in the world over the past several years. "What the new 510 brings to the table is instant upload and tracking via a Bluetooth Smart enabled phone, touch screen navigation, a barometric altimeter and the new Garmin Edge Out Front bike mount system which is a vast improvement over stem mounts", says Squire.
The fact that the new Edge 510 instantly uploads to training software and social sites like Facebook makes it the first bike computer in the world to be able to do so. "This means that friends and family could not only locate you in real time but they could see what your heart rate, speed, cadence and other data are in real-time - it's revolutionary", says Squire.
"We co-sponsor Team Rockford in conjunction with Garmin and the riders that have the new out front bike mounts are raving about them", says Squire. He adds, "Those that have tried the new Garmin Edge 810 and the instant upload and tracking love it".
GET TWO FREE BOOKS IN TIME FOR SPRING TRAINING
Right now the Heart Rate Watch Company is offering two free fitness books that were authored by Squire, himself a former US National Team cyclist. The two books, entitled "How To Successfully Use A Heart Rate Monitor" and "How To Elevate Fitness With Strength and Interval Training" are free downloads from the company's website.
"These two books give you all the tools to manage your fitness, diet and build a great aerobic foundation" says Squire, adding, "The interval training book gives you the tools to really sharpen your form".
For those that want a new Garmin Edge 510 right now, instead of in late March, simply visit the Heart Rate Watch Company.