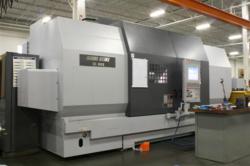 Mentor, Ohio (PRWEB) February 12, 2013
Roll-Kraft, a leading provider of tube and pipe and roll form tooling, has installed new CNC (Computer Numerical Control) machines at its Mentor, Ohio, and Woodbridge, Canada, locations that will allow both plants to increase their capacity of providing large-diameter roll tooling. The newly installed CNC at the headquarters plant in Mentor, Ohio, has the capacity to produce 40" diameter rolls. The additional CNC at the Canadian factory has a capacity of producing 52" diameter rolls.
Growing requests for bigger tooling have created a demand which very few manufacturers can meet. Each of these large-diameter solid-steel rolls is very dense, very heavy, and requires high-capacity equipment to produce and handle. The new equipment allows Roll-Kraft to continue to meet that need.
Including the Canadian factory, Roll-Kraft produces tooling daily on 50 CNC machines, the most in the U.S. and Canada, which allows the company to meet required deliveries 98% of the time.
In addition to the two plants mentioned, Roll-Kraft maintains another facility in Frankfort, Illinois (Roll-Kraft Northern). The main phone numbers for the company are (888) 953-9400 or (440) 205-3100. The fax number is (440) 205-3110, and the web site is located at roll-kraft.com.
For easy and immediate contact with Roll-Kraft that transcends time zones and working hours, the website features Dr. Resolve. Users can simply complete and submit an on-line form and send it to Roll-Kraft for a quick response.