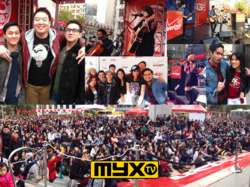 We are proud to have partnered with Verizon Wireless in bringing some of today's biggest YouTube celebrities to San Francisco.
SAN FRANCISCO, Calif. (PRWEB) February 08, 2013
Last weekend, Myx TV, joined Verizon Wireless at the Lunar New Year Celebration at Union Square in San Francisco. Drawing in the Northern California crowd, the city landmark quickly filled with music and festivity. But it was the stellar performances of Asian American artists Kina Grannis, Jason Chen, New Heights, Jayne Rio, Nicki Sun, and David So that brought in over 10,000 roaring fans.
"We are proud to have partnered with Verizon Wireless in bringing some of today's biggest Asian American artists to San Francisco," said Miguel Santos, General Manager for Myx TV. "As the fastest growing Asian American cable network, bringing our audience the best of our entertainment is our top priority."
"The 2013 Lunar New Year Celebration event was amazing! The crowd was amazing for my first performance in a long time in the Bay Area. I also want to thank Verizon again for giving me the opportunity to perform and meet with my fans," said Jason Chen, Asian American artist.
Verizon Wireless customers can still receive a complimentary "Lucky Bag" for good luck in the new year as a gift, with purchase (retail value of $50; 2 year contract required). This promotion will be available in selected Verizon Wireless retail locations nationwide from February 9 – February 11, 2013. For participating store list, visit http://www.verizonwireless.com/lunarnewyear.
To catch more of today's hottest entertainers and programming on the air, visit http://www.myx.tv.
##
ABOUT Myx TV®:
Myx TV is the –fastest growing Asian American entertainment and lifestyle cable network in the United States. Dedicated to airing the best in entertainment for the Asian American community, Myx TV's programming is a unique combination of original and syndicated shows, including reality, live music performances, animation, and independent film and Asian cinema airing 24/7 in English. Broadcast in over 10 million households across the country it provides a platform for Asian Americans on mainstream television and is also represented on its official website by a community of bloggers from coast-to-coast. To find Myx TV in your area and for exclusive content online, visit http://www.myx.tv.
Media Contacts:
Keesa Ocampo
Myx TV
(650) 508-6614
keesa.ocampo(at)myx(dot)tv
Pricilla Chooy
T.D. Wang Advertising Group, LLC
(206) 434-5168
pricilla.chooy(at)tdwang(dot)com