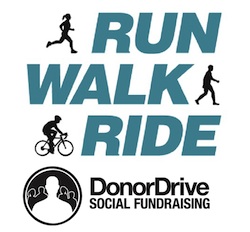 One cause has raised over $650,000 since offering third-party campaigns in DonorDrive.
Cincinnati, OH (PRWEB) February 12, 2013
Causes across North America have been frantically looking for ways to improve their fundraising in this sour economy. Many are finding that third-party campaigns are the answer to increased fundraising, engaging new supporters and introducing them to new donors–without the additional strain on already-stretched resources.
Tuesday Feb. 19, 2013 from 1:30-2:30 EST, DonorDrive Social Fundraising Software and the Run Walk Fundraising Council will host "Raise More Without Having to Do More. Third-Party Events Let Supporters Do the Work For You," a complimentary webinar on using third-party campaigns to seriously boost nonprofit fundraising. The webinar will be presented by Todd Levy (Managing Partner of DonorDrive) and Mike Malekoff (former Vice President at JDRF). Mike has used DonorDrive Social Fundraising software to raise over $2 million dollars in two years.
Third-party campaigns enable supporters to easily create their own fundraising campaigns using online fundraising software such as DonorDrive. Anyone can create a campaign around their participation in a marathon, a life event (like a wedding or birthday), a memorial for a loved one, a bake sale or anything they can dream up.
Causes in dire need of enhancing their current fundraising programs will get all the answers they need about third-party campaigns during this webinar. Topics will include:

Why third-party campaigns are so successful right now
Examples of some very effective Personal Campaigns that are raising as much as signature events
The many benefits of third-party campaigns for the causes that use them
Live question and answer session
DonorDrive clients are finding the campaigns not only boost their overall donations, but also engage current constituents better, introduce the cause to new donors and help retain and grow those donors long term. Since supporters create and manage campaigns themselves, these benefits place little or no additional burden on nonprofit staff.
Register for this webinar at http://www.runwalkride.com/teleclass_detail.asp?ID=1109. This one hour can substantially increase your cause's fundraising and growth potential.