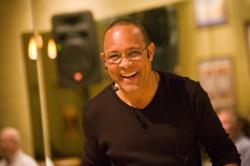 Tap dancing is a reflection of the rhythms of life, composed by the soul and played by the feet.
Boulder, CO (PRWEB) February 14, 2013
When Dr. David Sharp attended Rev. Martin Luther King's (MLK) funeral, it was not just another day in the life of a young boy growing up in the inner circles of the Southern Christian Leadership Conference (SCLC). For David Sharp, steeped in the strong values of the church, the civil rights movement helped African-Americans transform social disillusionment into social activism.
Sharp's life experiences captured the deep realities of African-American life in the 60's and led him to become an engaging, talented artist, who uses dance, music and poetry as a vehicle to transform pain into joy.
Last year, David moved back to Colorado and published a new book, "I'm a Black Man, Who are You?" (Dorrance Pub., 2012) that takes the reader on a heroic journey of love, pain, courage and triumph. He shows us the agony of hatred and champions of love that helped him face his fears, stand his ground, and discover the deep inner well of joy and power as he learned vital life-lessons on the way to manhood. He shows us how to face life no matter what life makes you face, and what it means to remember who you are.
In honor of Black History Month, Sharp and his wife, Jeannine Goode-Allen will present, "Tap into Transformation", on March 1, 2013 at their studio, 4949 N. Broadway, Unit 65, Boulder, CO 80304. A workshop about inspiration from the heart, this evening of transformational song, poetry, and tap dancing will be dedicated to African-American history.
From July 18-21, Dr. Sharp will be directing a play about St. Hildegard von Bingen, "Feathers on the Breath of God", written by Jeannine Goode-Allen. "Feathers" will be held at Bas Bleu Theater in Ft. Collins.
About the Author
Dr. David Sharp, D. Min., is a writer, performer, composer, communicator and educator. He has performed on Broadway, in films and on television, and has directed and choreographed for the theater. He has won awards as a speaker, songwriter, and poet and has presented for churches, universities, and major corporations and civic organizations. He has recorded CDs of inspirational music and poetry, has hosted a lifestyle television show in the San Francisco Bay Area, The Art and Soul of Urban Living, and was Editor-in-Chief of Soul Mag, a nationally distributed magazine bridging entertainment, culture and spirituality.
He has served on the faculty of USC (Los Angeles), UCS (Oakland) and has run a one-of-a-kind program, Success Camp, for foster kids in northern California. He holds a BFA in Drama from the University of Southern California, a Master's of Divinity from San Francisco Theological Seminary, a Master's in Special Education from Santa Clara University and a Doctorate of Ministry from the University of Creation Spirituality, now Wisdom University. Dr. Sharp resides in Boulder, Colorado.
http://www.powerforlifenow.com