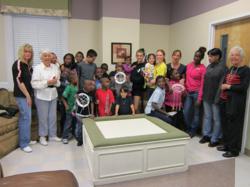 Paterson, New Jersey (PRWEB) February 11, 2013
Shepherds of Service (S.O.S.), a Ministry at St. Catherine of Siena Parish in Cedar Grove (SCS), approached Eva's Village two years ago wanting to get involved with their mission. Eva's Village, Paterson, N.J. was selected to be part of S.O.S. because of its comprehensive program and success in changing lives. "Eva's was eager to partner with us which made the organization an instant 'yes'!" explained SCS Stewardship Council Chair and S.O.S. Ministry Director, Pat Braun. "Having researched numerous organizations regarding their need for volunteers, discussing how S.O.S. could meet those needs, and analyzing parishioner feedback regarding service ministry, it became clear that Eva's Village and St. Catherine's was a perfect pairing of Missions! A subsequent tour of Eva's Village affirmed the selection."
SCS Stewardship Council Member, Grace Whealan, compiled the research which drew SCS to Eva's Village and serves as S.O.S. Parish Liaison to the organization. Parishioner Camille Nebus is Group Coordinator of the twelve S.O.S. Activities at Eva's, each of which is a "Teachable Moment" for the young children living at Eva's Hope Residence, a sheltering program for homeless mothers and their young children. Led by a different parishioner each month, each activity is comprised of an educational element and a fun activity focused on a different theme, such as "The Wind," "Outdoor Fun" and "My Neighborhood."
It all began two years ago and has continued on a monthly basis with the mothers and children of Hope Residence benefiting, as well as, the members of S.O.S. "We are so thankful to partner with such a wonderful group," stated Marie Reger, executive director of Eva's Village. "The children at Hope Residence look forward to the S.O.S. group's arrival each month with anticipation. Over the last year the group has expanded its involvement by also conducting a reading group with the parents of the children at Hope Residence so they can discuss the books read with their children."
In addition to the monthly enrichment brought to the children of Hope Residence, members of S.O.S have also volunteered in other activities at Eva's Village including their Annual Golf Tournament and Summer Carnival and a few routinely volunteer in Eva's Kitchen. Monsignor Robert Slipe, Pastor of St. Catherine of Siena Parish, expressed himself thus, "In its ability to match today's parishioner's hectic schedule to the very real needs of social service providers in our area, S.O.S. has blessed our Parish with an ability to give service where it is needed and provide our people with opportunities to give of themselves to the poor. It's been a win-win for Saint Catherine's and the social agencies in our area."
For more information about getting involved at Eva's Village as a volunteer, call or email Jennifer Doherty at 973.523.6220 ext. 248 or Jennifer.Doherty (at) evasvillage (dot) org.
About St. Catherine of Siena S.O.S.
Detailed information about S.O.S. is available by clicking on the S.O.S. tab on the St. Catherine of Siena Parish website (http://www.scscedargrove.org).
About Eva's Village
Eva's Village (http://www.evasvillage.org), originally a New Jersey soup kitchen, was founded in 1982 by Msgr. Vincent E. Puma in response to the increasing incidence of homelessness in his Paterson, NJ parish. But Msgr. Puma soon realized that a soup kitchen was not enough. With the generous support of thousands of donors and private and government grants, Eva's has grown into the most respected anti-poverty program in New Jersey. Their mission is to feed the hungry, shelter the homeless, treat the addicted and provide medical and dental care to the poor with respect for the human dignity of each individual.