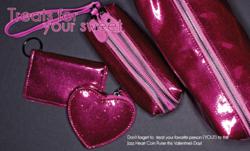 Treats for your Sweet this Valentines
Englewood, NJ (PRWEB) February 09, 2013
Clava's "Jazz" collection offers a delightful selection of gifts under $50.
Clava, a purveyor of beautifully crafted and thoughtfully designed bags, luggage, and small leather goods is celebrating Valentine's Day with the very symbol of love. Heart Shaped Coin Purses turn up in a rainbow of glittery colors—from silver and gold to purple, red, teal, and more. The heart-shaped coin purses are part of Clava's new "Jazz" collection, which also includes a key chain wallet and a cosmetic case in two sizes.
"The 'Jazz' collection is a fun and festive way to celebrate Valentine's Day, or any special occasion," says Clava designer Mia Hur. "What's more, the key chain and cosmetic case are perfect complements to the coin purse, and can be monogrammed."
The collection, which retails from $25 to $40 is available at clava.com.