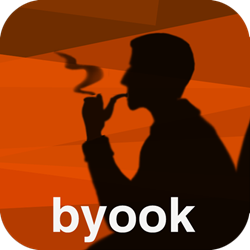 St. Augustine, FL (PRWEB) February 10, 2013
Byook is a new reading experience for the digital generation. Designed for smartphones and tablets, it keeps kids reading instead of playing video games- bringing books to life with graphics, animation, and sound effects.
The latest offering from Byook includes the young adult book "Tara Duncan" by Sophie Audouin-Mamikonian, based on a bestselling YA series in France. Said to be the next craze for U.S. teens and tweens, it's a must-read. "Tara Duncan" is now available for iPhone and Android. Additional releases are "Sherlock Holmes: The Speckled Band," featuring original text by Sir Arthur Conan Doyle and "Little Fear" by Miguel Vargas.
Three key points differentiate Byook from anything else in the marketplace:

Every page of the byook is enhanced with a graphical and musical rhythm that echoes the narrative rhythm of the text.
Manipulation is very simple. The reader has to do only one thing: turn pages. No gadget interaction, no clicking, no shaking.
Imagination is key. Although pictures are shown, the byook suggests more than it shows by playing with reader's imagination though sounds and pictures.
Although very simple in its manipulation, several features are offered to let the reader go further. Artbyook is an embedded art-book filled with new pictures the reader can unlock by reading the entire story. The reader can also change the appearance of the protagonist in the Dress Room. A collector edition upgrade is also available for bonuses, as well as story customization where the reader can connect his Facebook account to the byook. This will customize the story and lets everybody have a different experience.
Byook was founded by three professionals from the video game and digital entertainment industries, who are dedicated to creating multi-layered reading experiences for the digital audience.
"We are huge fans of books and video games, and we wanted to bring what we learned from games to books," said Manea Castet, Creative Director of Byook. "Byooks are just the tip of the iceberg for what we have planned for reading," Castet continues.
Priced at $1.99 -$2.99 per byook.