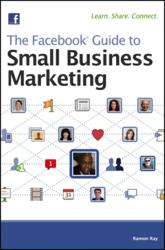 Indianapolis, IN (PRWEB) February 11, 2013
John Wiley and Sons, Inc., today announced The Facebook® Guide to Small Business Marketing (Wiley, 978-0-470-87520-9, February 2013, US $19.99), a complete guide for small business professionals to learn new ways to attract customers, create a business profile and take advantage of Facebook's many marketing features. Packed with insider tips and proven best practices, this book will help any small business harness the worldwide marketing potential of Facebook.
Marketers are projected to spend $4.4 billion on social media advertising by 2016 according to Forrester Research. While paid advertising is booming, so is the free advertising that comes from having a well-maintained and frequently updated business profile on Facebook. With more than 1 billion registered users, Facebook opens a worldwide forum for small businesses that were once dependent only on local traffic. Written by small business technology guru, Ramon Ray, the book guides readers through everything from creating a business profile, to using Facebook's unique marketing features and following best practices to achieve the best return on investment. Using familiar design elements from the Facebook site and clear direction, The Facebook® Guide to Small Business Marketing is packed with tips and creative marketing ideas gathered from exclusive access to Facebook insiders.
For anyone with a small or local business, this is the essential guide to learn how to attract customers using Facebook. The Facebook® Guide to Small Business Marketing is now available for purchase online and at retailers nationwide in both print and all e-book formats. For a list of retailers, visit http://www.wiley.com/buy/9780470875209.
About Wiley
Wiley is a global provider of content-enabled solutions that improve outcomes in research, education, and professional practice. Wiley's Professional Development business creates products and services that help customers become more effective in the workplace and achieve career success. It brings to life the ideas and best practices of thought leaders in business, finance, accounting, workplace learning, management, leadership, technology, behavioral health, engineering/architecture, and education to serve these communities worldwide.
Founded in 1807, John Wiley & Sons, Inc. (NYSE: JWa, JWb), has been a valued source of information and understanding for more than 200 years, helping people around the world meet their needs and fulfill their aspirations. Wiley and its acquired companies have published the works of more than 450 Nobel laureates in all categories: Literature, Economics, Physiology or Medicine, Physics, Chemistry, and Peace. Wiley's global headquarters are located in Hoboken, New Jersey, with operations in the U.S., Europe, Asia, Canada, and Australia. The Company's website can be accessed at http://www.wiley.com.
###