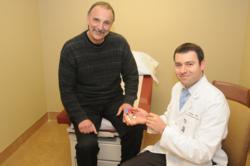 YOUNGSTOWN, Ohio (PRWEB) February 11, 2013
Paul Lisko, the first patient to undergo atrial fibrillation ablation at St. Elizabeth Health Center and a resident of Struthers, and Dr. Lee Gemma, the cardiac electrophysiologist who performed Lisko's procedure and a lifelong resident of Poland, will be the featured speakers at The Beat Goes On.
Presented by St. Elizabeth Heart and Vascular Center, The Beat Goes On is a community social to raise awareness about heart disease. It will take place at 5 p.m. Feb. 21 at Our Lady of Mount Carmel Church Hall.
St. Elizabeth Health Center is the only health care provider in the region offering catheter ablation as a treatment option for patients with atrial fibrillation, the most common heart arrhythmia. Before St. Elizabeth Health Center introduced it to the region in September 2012, patients who could benefit from atrial fibrillation ablation needed to travel to larger cities such as Cleveland, where the procedure has been available longer.
There will also be a heart-healthy cooking demonstration by Chris Brainard, chef at St. Elizabeth Health Center, informational displays and a dinner buffet.
Tickets for The Beat Goes On are $25 for singles, $45 for couples and $180 for a table of eight. For information, call 330.480.3151 or 1.877.700.4647.
About Humility of Mary Health Partners:
Humility of Mary Health Partners is an integrated health system located in the Youngstown/Warren area. It is a region of Catholic Health Partners (CHP) in Cincinnati, the largest health system in Ohio and one of the largest Catholic health systems in the United States. HMHP provides a full spectrum of health care services, including inpatient, outpatient, emergency, urgent care, home care and long-term care. Members are St. Elizabeth Health Center, St. Joseph Health Center, St. Elizabeth Boardman Health Center, HM Home Health Services, The Assumption Village, Humility House, Hospice of the Valley and Laurel Lake. Learn more about HMHP online at http://www.HMpartners.org. ###