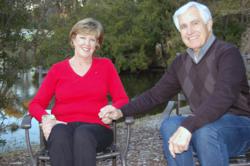 ...Mimi has lost 45 pounds and two pant sizes, while Phil has lost 50 pounds and gone from a size 38 to 34 in just thirteen months—and they're still losing.
Hilton Head Island, SC (PRWEB) February 11, 2013
Mimi and Phil Drew of Bethany Beach, DE, visited Hilton Head Health (H3) weight loss resort located in Hilton Head, SC, as a jumpstart to their new healthy lifestyle in December 2011. One year later, the couple is down almost 100 pounds and Mimi has reduced her cholesterol by 40 points.
Mimi and Phil were looking for a program they felt confident would help them lose weight and keep it off for good. They claim, the most helpful tips they obtained while at H3 include learning how to speed up their metabolism for faster results and understanding the reasons behind weight gain. As a result, Mimi has lost 45 pounds and two pant sizes, while Phil has lost 50 pounds and gone from a size 38 to 34 in just thirteen months—and they're still losing.
"We learned weight loss tools that have helped us in all aspects of life," says Mimi. "From dining out to exercise; we've been able to incorporate H3's weight loss rules in our daily routine to achieve lasting success."
Since returning home, Mimi and Phil have enjoyed celebrations, holidays and vacations all the while maintaining their weight loss. Using many of the free, healthy recipes found on H3Daily, H3's daily blog, last Valentine's Day the couple created a romantic low-calorie meal of grilled shrimp, roasted vegetables, chocolate dipped strawberries, lemon meringue cookies and topped it off with a glass of champagne.
Mimi said, "We counted everything without feeling like we cheated on our diet or feeling deprived."
This Valentine's, Mimi and Phil wanted to renew their commitment to health and celebrate their weight loss success by visiting H3 for dinner. This past week they attended H3's six-course healthy fine dining Chef's Table, one of the newest additions to H3's full-service kitchen and dining venue, H3 Healthy Kitchen.
Read Mimi and Phil's full testimonial on their experience on the H3 blog, H3Daily. For more information on the proven, all-inclusive weight loss program at H3, visit http://www.hhhealth.com.
About Hilton Head Health
For over 35 years, Hilton Head Health has been recognized as the premier weight loss and health retreat in the United States. Most recently, Hilton Head Health was featured on A&E's weight loss docudrama HEAVY, which aired in spring 2011. Voted as "Best for Weight Loss" for the past six consecutive years by SpaFinder and "Top 5 US Health Spas" by Lisa Drayer on the Today Show, Hilton Head Health is an exclusive resort delivering individualized experiences in the areas of Fitness, Nutrition and SELF (Stress management, Empowerment, Longevity, Fulfillment). For more information, please visit http://www.hhhealth.com or call 800-292-2440. Free health and fitness tips, as well as healthy recipes are available on the official H3 blog at http://www.h3daily.com. Become a part of the H3 Family by joining the conversation on Facebook and Twitter.