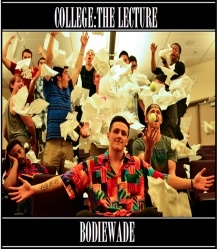 (PRWEB) February 11, 2013
Live web streaming portal iWantJam released the latest installment into its 'Artist Spolight' series, focused on helping music fans find exciting new talent on the platform. This installment puts the spotlight on Hip-Hop Hipster Bodie Wade ( http://www.iwantjam.com/artist/BodieWade), part of a new generation of musical and stylistic fusion.
At just 19 years old, Wade has developed his professional persona by mixing the basic themes of an average teenage Christian kid from SoCal, with the lyrical rhymes and beats of a veteran Hip-Hop artist; forming what is now referred to on 'the streets' as, a Hip-Hop Hipster.
Born in Los Angeles in 1993 from a family of musicians, Wade has always been surrounded by the entertainment industry. Music became his personal passion at a the early age of 10, when he started exploring the techniques of music recording software and learning to play different instruments including the guitar, piano, and even the saxophone. He discovered the Hip-Hop genre and decided to pursue a career in music during his Freshman year of high school in 2008. Now, between his college courses, Wade finds the time to write lyrics and create original new beats for his growing fan base around campus and throughout Orange County.
Wade's first mixtape, "College: The Lecture" was released in December 2012 and is full of inspired music and absolutely no "bragging about drugs, hoes, and whips" he says. "I am real, vulnerable, and honest. What I rap about is what I am going through in my real life. I will never rap about something that isn't relevant to me. I know who I am as an artist, and as a person. My music is fun, and it is CLEAN. I understand that sometimes swear words can be poetic, but if a writer can't write a song without using profanity, that is a weakness and limits who will listen to their music." The new mixtape releases the hot new style, "HipHop Hipster" with both hard and boombap beats. The entire 11 song album was engineered, mastered, and written by Wade, and appropriately done inside the comfort of his own dorm room at Vanguard University.
Bodie Wade is currently working on his next mixtape scheduled to hit the streets in March 2013. He is also in the process of creating several music videos to accompany the release.
iWantJam is a brand new type of music site that aims to connect musicians and fans worldwide through live shows, video streaming and social media. Artists will be able to connect with their fans on a much deeper level than just a profile page and music button, thus offering far more than a promotional device, but a unique experiential connection. Register your artist profile and join the online live music experience of iWantJam!
http://www.iwantjam.com