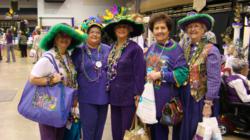 Beaumont, TX (PRWEB) February 09, 2013
It's Mardi Gras time in the US, but you didn't have to be in New Orleans to have some authentic Mardi Gras fun! The sights and sounds of a Mardi Gras celebration were plentiful at "Celebrating Seniors Mardi Gras Style" at the Beaumont Civic Center. Live zydeco music, dancing, and a host of vendors were there to celebrate Mardi Gras with the senior community of Southeast Texas.
The team from Gulfside Dental was there to bring in the festivities. "It is a great opportunity to talk to senior citizens about the overall effects of aging on dental health," says Dr. Ashley DeMarco DDS of Gulfside Dental. "The older population-persons 65 or older-is expected to represent 19% of the population by 2030. As we get older, our oral health becomes more important than ever. Maintaining proper oral hygiene is not just for your teeth and gums, and senior citizens have unique dental needs and challenges."
Oral health problems can hinder a person's ability to be free of pain, discomfort, to maintain a satisfying and nutritious diet, and to enjoy interpersonal relationships and a positive self-image. A visit to the dentist allows for a comprehensive evaluation of teeth, gums, and soft tissues, and for prevention, early detection of oral health problems. Oral diseases and tooth loss are not inevitable with aging, and teeth can be expected to last in good condition all of a person's life. As more aging people keep their teeth, more will be at risk for dental diseases and will need more preventative, restorative, and periodontal services.
Dr. DeMarco recommends, "regardless of age, brush twice a day with a flouride-containing toothpaste, floss at least once a day, and visit your dentist on a regular schedule for cleaning and an oral exam. Proper oral hygiene and regular visits to a dentist will ensure that you will enjoy that Mardi Gras gumbo and ettouffe well into your senior years."
Gulfside Dental is a full-service dentistry practice now accepting patients from 6 months old to adults, located at 4179 Dowlen Road in Beaumont, TX.Gulfside Dental accepts most PPO insurances, Medicaid, CHIP and major credit cards. Office is open from 9am-6pm Monday thru Friday, and 9am-3pm on Saturdays.