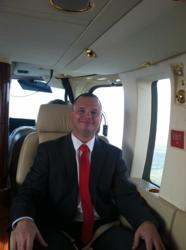 Roger Bryan is a top business author, speaker, coach and serial entrepreneur.
Cleveland, OH (PRWEB) February 08, 2013
Renowned marketing executive and accomplished author, public speaker and business coach, Roger Bryan of the business consulting firm, RCBryan & Associates, has announced he will be featured as a speaker at the 2013 Sales & Marketing for Smart People event in Toronto, Ontario. The accomplished business coach will be speaking at the event and delivering event attendees with valuable business coaching insight and professional guidance on growing their business for current and future business owners.
At the event, Bryan will be working together with some of the top business coaches and marketing experts in the business to help conference attendees, become sharper strategic thinkers, develop effective sales and marketing blueprints, grow their wealth network, become more efficient in their business operations and transform into a master delegator. The Toronto event is one in a tour of speaking events under the "Smart People" name that is being headlined by Bryan and other accomplished business coaches.
Bryan will be using his years of experience as a business coach, along with his first hand experience in developing multi-million dollar companies to help event attendees develop more efficient and effective marketing solutions to take their business to the next level. The Smart People event will be taking place at the Toronto Airport Marriott Hotel from Saturday February 16th-Sunday February 17th. More information on the event can be found at http://www.megapartnering.com/smartpeople/toronto/.
About Roger Bryan:
Roger Bryan is a top business author, speaker, coach and serial entrepreneur. In addition to starting several multi-million dollar companies; he offers professional business coaching services aimed to help startups and established businesses alike find success in today's market. His first-hand experience in these areas has placed many of Roger Bryan's companies on the Inc. Magazine list of fastest growing companies in America.
Roger Bryan is also the president of RCBryan & Associates; and organization offering business coaching, mentoring, consulting and marketing coaching services to companies and investors in all different niches.