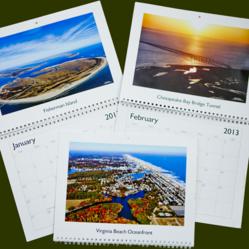 The best way to begin the year is to take the focus off of what we want and direct that energy to what we can do for others
Virginia Beach, VA (PRWEB) February 21, 2013
The New Year is in full force and some would say that 2013 is the year to do more, give more, and make changes for the good. This may be very well true for Virginia Aerial Photographer Ron Brown who captured the best of all of Hampton Roads in a 2013 calendar for the locals. His aerial photography business has been a proud server to Hampton Roads since 2005.
What's so special about this calendar? Not only are the locals raving about having aerial images of their favorite locations but Aerophoto America is also going to send all their proceeds received from the calendars to a therapeutic riding program dedicated to children of special needs called Equi-kids.
Aerophoto America's team goals for 2013 involve more efforts to support the local community and charities in the year 2013. "We want to start the year off right," stated Aerophoto America 's ground photographer Shaleen Wallace. "The best way to begin the year is to take the focus off of what we want and direct that energy to what we can do for others".
These are not just your average every day photographs either! Locals that have lived in Hampton Roads for decades are thrilled to see a bird's eye prospective of their favorite spots in the area. Some of the highlight areas include Inlet Fitness, the Oceanfront Boardwalk, ODU football game and more.
Where can one find these Calendars? Thanks to a local hardware retail store that supports local businesses in the area a copy of Aerophoto America's 2013 Calendar can be found at Taylor's Do It Centers throughout Hampton Roads. Look out 2013! Whether you are looking to support a charity or own a copy of the best images of Hampton Roads you cant go wrong with Aerophoto America. Find out further information about other photography services offered by Aerophoto America at http://www.aerophotoamerica.com