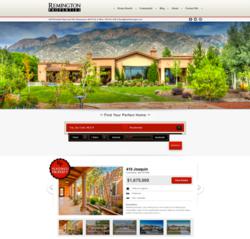 Albuquerque, NM (PRWEB) February 11, 2013
YourMLSSearch.com is pleased to announce the launch of a new website for Remington Properties showcasing Albuquerque real estate. The website, RemingtonPropertiesNM.com, is revolutionized by the use of Vision, a new IDX solution. The new technology allows for website to contain more visual elements and a more user-friendly interface. This is an especially appealing feature for a website competing for Albuquerque real estate. The purpose of the new website is to allow individuals searching for properties in the Albuquerque area to do so with ease.
The Remington Properties website has a home search page with a property search feature that allows users to search Albuquerque real estate by location, price, property type and more. The property details page allows users to view detailed information customized to their needs. The website's quick search feature, located conveniently at the bottom of every page, allows users to search by a specific property address or property type.
The Albuquerque real estate listings are streamlined to include photos and quick property details such as number of bedrooms and bathrooms and total land area for properties involving land rather than a specific home. Each listing also features a link to financing information and other price details along with the specific Albuquerque neighborhood where each property is located. Users have the further option to share their favorite listings via social media sites such as Facebook and Twitter.
Community and blog pages allow prospective homebuyers to search for information about Albuquerque real estate or the surrounding areas. Events, area information, statistics are highlighted throughout the website making it easy for homebuyers to be fully informed about their neighborhood of choice. Each community page has an interactive map located at the bottom of the page for users to scroll over to zoom and find their location.
The new website is designed to reflect the more interactive nature of Remington Properties and make searching for a home easier than ever. Homebuyers can contact Remington Properties fully informed about the home they are interested in, making the purchase take less time and hassle that before. While not intended to replace the personal services a real estate agent from Remington Properties can offer homebuyers, the site does help users narrow down Albuquerque real estate preferences.
About Remington Properties:
Sean and Christine Remington of Remington Properties are two of Albuquerque's top real estate brokers. Sean and Christine started out working in the hospitality industry and they bring their "spirit to serve" attitude to their business. While 93% of their business comes from referrals, they are hoping to cultivate on online presence with their new website.