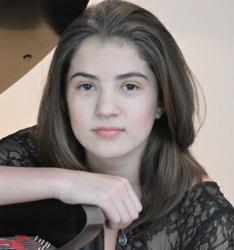 I'm interested in so many areas: conservatories, science, composing and singing; it's difficult to focus on just one.
Westlake Village, CA (PRWEB) February 13, 2013
Oaks Christian Online High School freshman, Gianna Zufall, is taking Berklee College of Music's online Voice Technique 101 class at the request of her piano teacher in order to learn more about the link between singing and playing. This dual online high school and college credit course includes students from all over the world, including students from as far away as Tokyo and South Africa. At 15, Gianna is the youngest student in the course, and many of the other students are voice teachers and professional performers. Gianna enjoys the weekly, online meet and greet sessions where students learn about breathing techniques through the professor's web cam and videos. Gianna says it was essential that she fulfilled the course prerequisites of knowing articulation and how to read music ahead of time.
Gianna started playing the piano just 5 years ago but has been playing the violin for 9 years. She studies with UCSB's Robert Koenig, and on February 3rd, Gianna performed in a recital at the Nixon Presidential Library with Julliard-trained violinist Drew Tretick. At the annual Paderewski Festival in Paso Robles, California, Gianna has gone from third place in the junior division in 2009 to first place in juniors in 2010 and then to first place in the senior division in 2012. The award comes with an annual, week-long trip to Poland to live in the famous composer's home, participate in master classes and collaborate with other pianists. Gianna has not had an opportunity to travel yet because she has been active in gifted summer programs, and this summer proves no exception as she has been accepted to UC Irvine's Pre-med Program for youth.
Because Gianna has a brother with autism that expresses himself through the piano, she sees a link between music and neurology. She has an interest in USC's music and neurology program as well as Boston's Conservatory, NYU, or studying abroad in Italy or England. "I'm interested in so many areas: conservatories, science, composing and singing; it's difficult to focus on just one." Gianna studies online with Oaks Christian Online High School because of her busy travel schedule from her home south of San Luis Obispo to her practices and performances. Taking dual credit performing arts courses with Oaks Christian Online High School and the Berklee College of Music is one more way for this budding star and serious student to make her schedule work and follow her passions.
The main campus of Oaks Christian School in Westlake Village, CA opened in the fall of 2000 and Oaks Christian Online School (OCO) opened for full-time, online students in the fall of 2011. The online high school provides a rigorous and challenging college preparatory education for high school students all around the world in a Christian environment. Oaks Christian Online School continues to enroll part-time and full-time students throughout the school year and regularly hosts information sessions on its main campus – 31749 La Tienda Drive, Westlake Village, CA 91362, as well as virtual information sessions for prospective student families. Interested students can visit the website http://online.oakschristian.org to R.S.V.P. or find out more.
For additional information about Oaks Christian Online School, its courses, curriculum, admissions or application process, please visit http://online.oakschristian.org, call 855.462.6257, or contact a school representative at online@oakschristian.org.