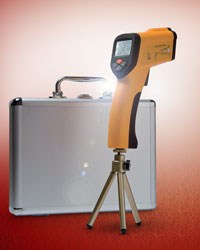 BEGA Special Tools
New Hyde Park, NY (PRWEB) February 12, 2013
A new BETEX professional digital laser thermometer from Quality Bearings & Components - QBC is a high-quality condition monitoring tool with an extreme range of -50° C up to +1000° C. The laser beam allows you to remotely measure the temperature of any required object. The digital laser temperature meter can be used to accurately measure fluids, gasses and a variety of other substances.
Identified as model TB-C610040S, this unit features a very fast reaction time of within 0.5 seconds, an automatic "hold" function plus an illuminated display. Read / resolution is 0.1° C. The unit measures 222 x 60 x 92 mm comes with a carrying case and a 9V battery. Unit weight is 300 grams. The model 1250 is one of a line of 3 BETEX digital laser thermometers
QBC offers a wide selection of bearings of all types. Their maintenance product line includes over 400 bearing pullers, induction heaters and other condition monitoring tools including hydraulics and alignment equipment. QBC is the official authorized stocking distributor of BETEX, BEGA's wide range of high-quality tools for bearing maintenance in the USA.
Detailed technical specifications are contained in catalog B700 available free upon request.
Quality Bearings & Components - QBC
2101 Jericho Turnpike, New Hyde Park, NY 11040-5416.
Phone: 1-888-276-4787 • Fax: 1-516-616-0443.
Web: http://www.qbcbearings.com/Press/Inductionheater22.htm
Note to Editor: An electronic version of this release including a 300 dpi at 3" wide .jpg image can be downloaded at http://www.qbcbearings.com/Press/laserthermometer.htm