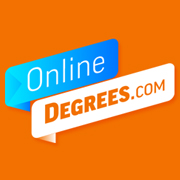 "For a long time, there has been an emphasis on traditional brick and mortar institutions. Now, younger students are embracing online learning and paving the way for the future of education."
Foster City, Calif. (PRWEB) February 12, 2013
OnlineDegrees.com, a leading education website since 2003, recently released a new infographic "To Get A Degree, or Not To Get A Degree" which discusses the importance of earning a college degree and the affinity of the Millennial generation (aged 18 to 30) toward online education.
According to a new study by Northeastern University, 83 percent of Americans believe that college is a good investment. The research also found that people think a college degree is still crucial in finding a job, getting promotions, developing personally, gaining a global perspective, having success throughout life and ultimately achieving the "American dream." Additionally, the U.S. Bureau of Labor Statistics projected that between 2010 and 2020, a rising number of occupations will require a college degree.
"Having a college education is an important factor in career search and improvement," shared Kevin Phang, spokesperson for OnlineDegrees.com. "This infographic highlights the changes happening around higher education."
These days, traditional classrooms aren't the only way to earn a degree. In the United States, technology advances currently allow 6.7 million college students to take at least one course online. This is an all-time high and reflects that enrollment online has grown by 568,000 students per year since 2003.
"For a long time, there has been an emphasis on traditional brick and mortar institutions," continued Phang. "Now, younger students are embracing online learning and paving the way for the future of education."
A majority of Millennials think that online degree programs offer the same quality of education as a more traditional route. For a generation that grew up with computers, online learning seems like a natural fit.
For more information on this infographic or how to earn a degree online, please visit OnlineDegrees.com.
About OnlineDegrees.com
OnlineDegrees.com is a leading education resource focused on connecting thousands of visitors with the information they seek about online education and degree programs. Site visitors can research schools and connect with the providers of career training, which may help them succeed. OnlineDegrees.com is owned and operated by QuinStreet, Inc. (NASDAQ: QNST), one of the largest Internet marketing and media companies in the world. QuinStreet is committed to providing consumers and businesses with the information they need to research, find and select the products, services and brands that meet their needs. The company is a leader in visitor-friendly marketing practices. For more information, please visit QuinStreet.com.