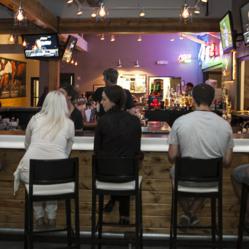 The Goat is the center of the experience at our communities. It gives residents a chance to get to know each other in a laid back social setting
Louisville, KY (PRWEB) February 12, 2013
Lifestyle Communities, a regional housing builder based in Columbus, OH is known for developing communities that offer unique experiences for its residents. Its first apartment community in Louisville, Idlewild, will be no different. The company recently received approval to build a semi-private full service bar and restaurant, The Goat, at the heart of the community.
"We're excited to get approval for The Goat in Louisville. It's a unique amenity that truly adds something special to the experience of living there," says Lifestyle Communities CEO, Michael DeAscentis, Jr.
The Goat will be the center of social life at Idlewild offering a destination for happy hour, live music, watching University of Louisville athletics, and the host for year-round resident events. And if you're looking for a little friendly competition, The Goat has a full schedule of volleyball, euchre, and cornhole leagues throughout the year.
"The Goat is the center of the experience at our communities. It gives residents a chance to get to know each other in a laid back social setting," says Lifestyle Communities CEO, Michael DeAscentis, Jr.
In addition to the activity hosted at The Goat, the bar serves a full menu of kicked-up American food including appetizers, burgers and sandwiches, pizza, salads, and other Goat specialties along with a huge selection of imported and domestic beers, cocktails, mixed drinks, and wine.
Lifestyle Communities ("LC") recently broke ground on Idlewild apartments in Louisville, KY. Located on English Station Way just fifteen minutes east of Downtown Louisville, and planned to welcome its first residents in early Fall of 2013, Idlewild will include 360 one- and two- bedroom townhome-style apartments with modern finishes as well as unique opportunities for residents to socialize including The Goat.
Lifestyle Communities is a housing developer focused on delivering a premier living experience for young professionals through innovative and smart housing solutions. The company currently manages 15 communities in Ohio, Kentucky, and Tennessee comprised of over 7,500 apartment, condo, and single family homes. Idlewild is the first of several communities LC plans to build in the greater Louisville area.
For more information on Idlewild visit LifestyleCommunities.com.