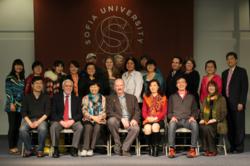 Palo Alto, CA (PRWEB) February 15, 2013
Sofia University (formerly Institute of Transpersonal Psychology) and the Counseling Center for Health & Wellness (CCHW) recently hosted group of visitors from Sias International University, based in the Henan Province of China.
President Neal King and Sofia faculty member Ling Lam previously visited Sias and returned with a collaborative agreement between the two schools. Sofia University plans to extend its connections internationally, with Sias being one of the first established relationships. Sofia will welcome the visitors with a luncheon and welcome presentation by Sofia President Neal King, followed by the workshop on campus at CCHW.
Sias International University is the first solely American-owned University in Central China. Affiliated with Zhengzhou University as well as Fort Hays State University of Kansas, it was developed and designed in response to the most current educational demands. It is the first full-time undergraduate university approved by the Degree Committee of the State Council in China to grant both Chinese and American bachelor's degrees. It is fully accredited by the China Ministry of Education.
About Sofia University
Founded in 1975, Sofia University (formerly the Institute of Transpersonal Psychology) is a private, non-sectarian university accredited by the Western Association of Schools and Colleges. For over 35 years, within the context of scholarship and research, the school has offered transformative education for the whole person, probing the mind, body, spirit connection. As Sofia University, the school is broadening its mission, reaching into multiple disciplines and adding undergraduate study. For more information, visit http://www.sofia.edu.