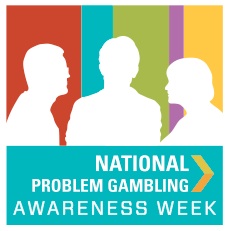 Washington, D.C. (PRWEB) February 11, 2013
March 3 – 9, 2013 marks the nation's 11th Annual National Problem Gambling Awareness Week. The theme this year is Problem Gambling: A New Understanding of a Community Concern. The annual campaign is a collaborative project initiated by the National Council on Problem Gambling (NCPG) and carried out through a grass-roots effort by communities nationwide, including the 35 state affiliate Councils on Problem Gambling. The goal of the week is to raise awareness about the warning signs of problem gambling and the resources for help. It is also a celebration of the men and women who have successfully recovered from a gambling problem.
"With treatment and support groups, individuals with gambling problems can stop gambling and lead a richer, more full and productive life," says Jeffrey Beck, a recovering problem gambler and Assistant Director for Clinical Services, Treatment and Research at the Council on Compulsive Gambling of New Jersey.
The public can access information about resources including treatment providers and support groups for problem gambling by calling the nation-wide 24-hour National Problem Gambling Helpline Network at 1-800-522-4700. All calls are free and confidential.
"Problem Gambling is a community concern that affects families, children, individuals and workplaces," said Keith Whyte, Executive Director of the National Council on Problem Gambling.
Employers, community and faith-based organizations, schools, and individuals are all encouraged to learn more about problem gambling and to help raise awareness during the week. Information, fact sheets and ideas for getting involved are available at http://www.npgaw.org.
###