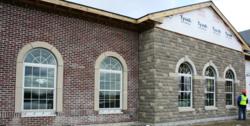 This is not your granny's nursing home!
Perrysburg, Ohio (PRWEB) February 11, 2013
While sharing the floorplans, architectural drawings, amenities, and recent construction photos with the son of a prospective St. Clare Commons resident recently, he exclaimed, "This is not your granny's nursing home!"
There are no long expanses of linoleum hallways. No beeping call system. No stark white box-type rooms. No herd-mentality dining.
What St. Clare Commons does offer is an abundance of choices.
What kinds of choices are offered?
Everything is optional. With a restaurant kitchen serving six dining rooms, atmosphere, views, and even menu options abound. Beverage options are plentiful, too: coffee, tea, juice, or wine?
Music interests are explored in Behavior Based Ergonomic Therapies (BBET) and Activities: Beethoven to Merle Haggard to Dean Martin. But using "quiet building" technologies, St. Clare Commons does not pipe music, overhead noise and PA sounds into community spaces. This will aid in recuperation and diminish confusion.
Still, there are many opportunities and spaces to enjoy amongst friends. Coffee klatches, pinochle tournaments, or dinner parties are very welcome at St. Clare Commons. Or, perhaps, a perfect day includes a good book and a window seat?
St. Clare Commons will accommodate residents' interests, capabilities, and friends and family.
Why are choices important?
In a word: independence. More than that, when one has choices, each resident feels a sense of empowerment. Thinking for themselves also leads to sharper minds, more active bodies and more engaged hearts.
"You have a whole team of advocates and helpers who have a vested interest in keeping you well and happy. They listen to you and learn who you are," says Executive Director Shawn Litten, "Plus, a try-us-out option and month-to-month agreement, means that the care team is invested in making sure that you want to choose St. Clare Commons again and again."
How are all these choices possible?
Choices are built into the very design of the community. When completed, St. Clare Commons will offer everything from assisted living, memory care, rehabilitation, and nursing care to future independent villas, and apartments as Toledo area's only Catholic "Continuing Care Retirement Community."
As defined by helpguide.org: Continuing-Care Retirement Communities (CCRCs) are facilities that include independent living, assisted living, and nursing care in one location, so seniors can stay in the same general area as their housing needs change over time. A CCRC offers peace-of-mind if you would like to stay in the same community regardless of your care needs. It also can mean spouses can still be very close to one another even if one requires a higher level of care.
A well-planned Continuing Care Retirement Community is the strong suit of Architects Plus of Cincinnati. There are many features that are conducive to making everyday choices.
What kinds of features promote choice?
A well-appointed San Damiano Chapel offers space for restful contemplation as well as regular services including weekly Mass offered by Father Herb Weber of Blessed John XXIII Parish. There are also many other connections planned in ministry as well as physically by road and transportation until the campuses are eventually united.
Education space is built in too. St. Clare Commons is set to accommodate meetings, staff, resident and community education as well as pertinent senior innovation conferences serving nearly a hundred participants.
Two great spots to relax and socialize are the piano bar and lounge offering a variety of entertaining options and the coffee shop serving Starbucks (TM) beverages. A green and accommodating memory garden or either of two rooftop terraces offer outdoor living spaces that feels either rural or urban depending on resident preferences.
A state-of-the-art rehabilitation lab, a fitness center, library, walkable grounds with five ponds and fountains, round out some of the many amenities that make St. Clare Commons a community full of possibility.
What will be available this year?
Reservations are being accepted now and many families are already making plans for their loved ones move to St. Clare Commons.
The first phase of St. Clare Commons will offer 60 private skilled nursing suites that are planned to be ready for first residents in July and 56 assisted living apartments and 36 memory care studios that will be available to move in to in October.
In Other News
To learn more, join St. Clare Commons at the Spring Music & Luncheon event at St. Rose Parish, 215 E Front St, Perrysburg, on March 7 at 11:30am in the church basement. Call 419-874-4559 for reservations.
It is vital to build a team who embraces the power of choice, innovation, and caring. Those who are the best in their fields are invited to the St. Clare Commons Job Fair on Wednesday, April 3, at Blessed John Parish at 24250 Dixie Hwy from 11am til 4pm. Bring your resume and ideas for improving senior care in Northwest Ohio. Click Careers at StClareCommons.org for more information.
Contact Jessica Derkis, Director of Marketing at 419-931-0050.
REVERENCE SERVICE STEWARDSHIP
St. Clare Commons is a member of Franciscan Living Communities and is sponsored by the Sisters of St. Francis of Sylvania, Ohio, in partnership with Blessed John XXIII Catholic Community and the Toledo Catholic Diocese. Franciscan Living Communities is a non-profit leading provider of senior living services to 1,200 residents in communities throughout Ohio and Kentucky offering continuing care, independent living, assisted living, rehabilitation, skilled nursing, memory care and adult services. In all relationships, we commit to Reverence for, Service to, and Stewardship of the whole person with whom we are blessed to work. To learn more about Franciscan Living Communities log on to our website at http://www.flcsylvania.org.