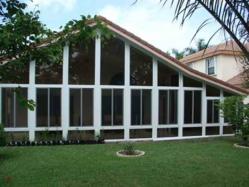 Decide how much you can spend on a home improvement and still be comfortable and secure.
MIAMI, FL (PRWEB) February 11, 2013
With the economic downturn lingering, homeowners who dream of improving their homes may find it difficult to even imagine how or when they'll be able to afford the work, said Christopher Noe, president of Venetian Builders, Inc., which installs custom-design aluminum sunrooms and screen enclosures in South Florida. Noe suggests ways for homeowners to save and demonstrate that they can afford the improvements they want.
Make a budget. "You need a realistic budget," Noe said. "That means everything, from housing costs and utilities to other necessities such as health care, transportation, clothing, food and insurance. Then list discretionary spending: entertainment, dining out, vacations, hobbies."
Cut your costs. "Add all the costs and see where you're spending too much," Noe said. "Are you eating lunches out when you could be brown bagging? Are you driving alone when you could be carpooling? Are you buying name brands when store brands might do? Find ways to save and pick a few you can live with."
Set a goal. "Decide how much you can spend on a home improvement and still be comfortable and secure," Noe said. "Custom design sunrooms and patio enclosures vary widely in cost. It's a lot like buying a car. Do you want to buy a $14,000 economy car, a $20,000 mid-size or a $35,000 luxury model? The more you spend, the more you get. Explore your options."
Find a monthly payment. "Go to a loan amortization table online, such as on IHSloans.com or Discover.com, and see how big the monthly payments would be for a loan covering 80 percent of your sunroom, patio cover or screen pool enclosure. Vary the term – the time you have to pay it off. A six-year loan will cost more overall than a four- or five-year loan, but the monthly payments will be smaller."
Open a savings account. "Even if you already have a savings account, open a separate account just for your home improvement savings," Noe suggested.
Start saving. "Every month, on the same date, deposit the amount that the amortization table shows you'll pay for the loan you plan to take," Noe said.
Get project estimates. "When you have your 20 percent saved, call builders and installers and ask for price quotes," Noe said. "Venetian Builders estimates, whether for a luxurious sunroom, an economical patio cover or a hurricane-resistant pool enclosure, are free, written and detailed. That's the best kind to have."
See your banker. "Take your account statement and estimate," Noe said "To help convince your banker that you can afford the payment, show your history of deposits and the projected cost on the estimate."
Venetian Builders, Inc., installs custom-design, right-sized patio enclosures, sunrooms, patio covers and screen pool enclosures. Venetian serves homeowners in West Palm Beach, Weston, Wellington, Stuart, Fort Lauderdale, Deerfield Beach, Boca Raton, Davie, Hollywood, Miramar, Miami, Miami Gardens, Homestead and all surrounding communities.
For more information, call 866-596-2427.