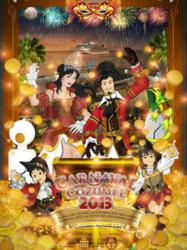 Cozumel Carnaval - Over 135 years of tradition and still going strong!
Cozumel, Quintana Roo Mexico (PRWEB) February 10, 2013
Months of preparation and weeks of competition all culminate this week as Cozumel Carnaval 2013 gets underway.
Carnaval activities officially kicked off Wednesday evening February 6th when Quintana Roo Governor Roberto Borge flew to the island to preside over the crowning of the Cozumel Carnaval 2013 Royal Court which will rule over the coming week of festive activities. Adult King and Queen Pedro Koyoc Pérez and Rosmery Shultz Caamal along with Teen and Child King and Queen candidates campaigned and competed in the community for the past 6 weeks to earn their Royal crownings.
The next few days will bring costume and dance group competitions for all age groups as well as nightly parades in the streets of downtown Cozumel and several concerts by popular musicians such as Reily Barba, Grupo Moderatto, Manuel Mijares Orchestra and Grupo 3 BALL Monterrey.
Cozumel Carnaval 2013 parade nights this year are Saturday, Sunday and Tuesday. All parade nights are excellent presentations but the biggest and longest parade will be the night of Fat Tuesday, February 12th. During the daytime hours all of Carnaval week, downtown Cozumel traffic will be closed as colorful costumed groups dance in the streets and vendors line the avenue selling food, beads and trinkets.
Cozumel's Carnaval is a celebration similar to Mardi Gras of New Orleans but with a Caribbean island flavor! This island tradition of Cozumel Carnaval has been passed down through many generations and its origins date back to the mid 1800's. As a result, many of the people participating in the parades and dance groups have been involved as "Carnavaleros" since childhood and have accumulated years of experience competing and performing in Cozumel Carnaval each year.
For a complete Calendar of Events for Cozumel Carnaval 2013 as well as pictures from the past 10 years of Carnaval visit our website and plan your Cozumel vacation today.
email: questions(at)cozumelinsider(dot)com
Toll Free USA: 866-732-8375
About Cozumelinsider.com
Cozumelinsider.com is an online Destination Travel Guide for Cozumel put together by folks who actually live and work on the island. It offers thousands of pages of free travel tips and vacation planning information where visitors can reserve air, hotel, car rentals and excursions. Online for over 10 years to serve you ~ contact us today!