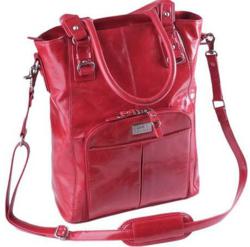 Thank You for the great communication and the very best customer service I have seen in a while. I will be ordering from you in the future. Thanks again. Signed J.P.
Murphy, TX (PRWEB) February 11, 2013
Readers take note of this Valentine's Day Sale at the LeatherGiftItems.com internet store. The 2013 Valentine's Day Sale features fine leather gifts up to 24% off the manufacturer recommended price. Many of the leather gifts have a monogram option to create a truly personalized gift.
The leather store features fine leather Valentine's gifts for everyone, i.e. leather briefcases, duffel bags, leather hats, customized ink pens, wallets and laptop bags from top manufacturers.
The sale features four bags made by Clark & Mayfield, just for ladies. This line specializes in a feminine laptop tote for the budget conscious female. Included at right, are pictures of the laptop tote, and the wheeled bag.
Also featured is a unique customizable pen for the ladies - it's called the "Lipstick Pen" and it comes in many colors. The company provides a number of colors and designs to choose from when designing a custom pen. Another unique pen is the "Money Pen"; it's made with U.S. currency, and the customer can choose the plating, i.e. gold or silver.
LeatherGiftItems features wallets and leather hats in this Valentine's Day sale. There is literally something for everyone in this grouping of products. Their leather hats are made in the USA, and the wallets are made with Italian leather.
To learn more about the company and their products, check out the LeatherGiftItems Manta site, or their YouTube customer review on briefcases.