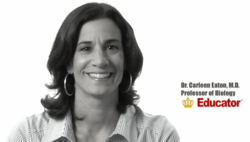 Studies have shown that students who participate in one or more AP exams and courses significantly out-perform their non-AP peers.
Los Angeles, CA (PRWEB) February 12, 2013
Advanced Placement (AP) courses provide the level of rigor that best prepares students for college success. Available in a digital format that mirrors what students will most likely find in college online courses or forums, Educator.com offers comprehensive test-prep materials for a variety of AP courses. AP Biology, one of the most popular courses, provides students with everything they need to know to get through their class and pass the exam.
Studies have shown that students who participate in one or more AP exams and courses significantly out-perform their non-AP peers. University of Texas researchers found that students who take AP courses in high school are more likely to graduate from college within four years and have higher grade point averages in college than similar students who did not take AP courses. Highly motivated students who wish to pursue their interests in the life sciences will find Educator.com's AP Biology lessons not only engaging and informative, but also in line with the College Board's standards.
This course is indispensable for any student looking for a professor who can effectively explain important concepts with fully illustrated diagrams before going over problems like those encountered in the multiple choice and free response sections on the exam. Biology is fascinating when topics such as Cell Structure, Genetics, Plants, Physiology, Behavior, and Ecology come to life on screen. Free full examples are available, such as Glycolysis and Anaerobic Respiration. A customized, dual-screen interface creates a unique one-to-one online learning environment that enables students to see both the professor and the whiteboard at the same time.
Educator.com provides students with variety of college level courses, along with 60+ other high school and professional subjects, for the affordable price of $35 dollars a month. Opt for the 6 month or 12 month bundle plan and save even more. Unlike other educational websites, Educator.com does not charge a separate price for each section. Review for AP Biology and then take a break with some Photoshop or After Effects videos.
Educator.com is determined to meet the demands of today's scholars. New and exciting courses are frequently added. At this time Educator's AP Biology courses are available for immediate viewing.
###
Educator.com pairs students with the best university professors and educators in the country. Educator's goal is to provide high school, college, and professional students with a variety of academic subjects in an online video format that is affordable, accessible, effective, and comprehensive.
The most effective way to improve education is to have the best teachers teach. With the best instructor in a subject, learning anything is possible. Every student deserves an excellent education regardless of geographic location or socioeconomic status and with Educator.com's affordable pricing everyone can access the site's complete content. For more information about the company please visit the About Us Page.