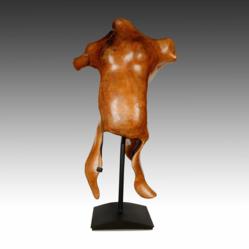 Long before time was measured nature was creating a world of beauty
Chicago, IL (PRWEB) February 08, 2013
The wide range of artistic creativity on display from Indonesia is usually associated with human hands; however, Primitive in Chicago is set to display an unusual organic wood sculpture reclaimed from a naturally felled tree in the Indonesian rain forest. The one-of-a-kind sculpture is instantly recognizable as a human torso. It is reminiscent of great artistic achievements by artists such as Michelangelo and Rodin, except in this case the artist who created the torso was not human. While human artists traditionally celebrate nature, this appears to be a case where nature is celebrating the human form.
In describing how this torso came about, Glen Joffe, the owner of Primitive, wrote: "Long before time was measured nature was creating a world of beauty. She painted the sunsets, sculpted the clouds, and blew the wind over rock and wood and water until movement alone left an indelible mark in an infinite number of shapes and forms. Nature was playful. She colored insects, fish and birds with an iridescent, neon palette that shimmered and sparkled in majestic shafts of light which illuminated her handiwork. Nature was creative and magnanimous. She grew the trees, built the mountains, and directed water to fall from steep cliffs with a thunderous roar. The only thing her creations required was an audience.
One day nature shot a lightning bolt down to earth. It uprooted a tree deep inside a forest in Indonesia. The tree lay on its side until it became obscured and overgrown. Time passed unnoticed. Much later, an artist found himself in the forest looking for inspiration. The artist appreciated nature's work - rock, wood, water, and life. One shaft of light pierced the forest canopy and landed on the base of the tree, highlighting a familiar shape. The artist excitedly removed a piece of root and carried it from the forest. They cleaned and polished it, being especially careful not to alter the original form, and as they worked one of nature's hidden masterpieces emerged, a natural, organic wood sculpture perfectly formed as a human torso."
The torso is now on exhibition at Primitive's flagship store, 130 North Jefferson in downtown Chicago. It is part of a select collection of rare, organic natural wood sculptures collected in Indonesia.
About Primitive: Primitive is an established gallery located in Chicago, which presents exclusive as well as one-of-a-kind collections of furniture, artifacts, textiles, jewelry, fashion and artwork from all over the world. Whether you visit in-person or on the web, you will find a colorful mosaic of authentic collections brought from some of the world's hardest to reach places. Everything offered at Primitive has a story, history, purpose and design heritage, and comes from the hand and heart.