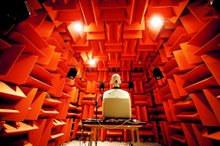 Creativity, innovation, and teamwork are in our DNA, we cannot separate those elements- Pedro Rivas Director of Plantronics Mexico Design Center
Tijuana, Mexico (PRWEB) February 11, 2013
This is the second time CES recognizes Plantronics for a product fully developed in Mexico Design Center. The first product developed at this center was the Calisto® 720; the company´s first speaker phone, honored at the 2010 CES. In 2013 the newest version of this product, the Calisto® 620 received the same recognition for innovative design and engineering.
The Plantronics Mexico Design Center is one of five Plantronics Design and Engineering centers; with locations in China, UK, Holland, and Tijuana, Mexico only 418 miles away from their corporate headquarters in Santa Cruz, CA.
The Tijuana Design Center was created in 2003 almost ten years ago. Pedro Rivas, Director of the center remembers: "I have been working at the center since its beginning, we where only four people then; currently 120 people mainly engineers some of them with master degrees or PhDs".
The team is dedicated full-time to research and development of new technologies focused on Mechanical Engineering, Electronics, Acoustics, and Firmware working closer with the Santa Cruz Design Center and other Plantronics´ Design and Engineering centers. "Creativity, innovation, and teamwork are in our DNA, we cannot separate those elements". Additionally Rafael Torres, Project Engineering Leader, mentioned the company has registered three US design and utility patents for Plantronics products created by the Tijuana product development team.
Tijuana provides a large engineering talent base, mentioned Rafael Torres, the company has established partnerships with local universities; together we develop intern programs to identify skilled engineering students who later are invited to work in the company. Other R&D centers such as CICESE and UABC collaborate closely on research and development of new technology.
In addition they are specific skills on Acoustics and Firmware that are internally developed through training programs. Whereas other companies cut training budgets, Plantronics firmly believes in empowering their associates, this could be one of the reasons the company has been named as "The Best Place to Work in Mexico" for second year in a row.
About Plantronics - Simply Smarter CommunicationsTM
Plantronics is a global leader in audio communications for businesses and consumers. We have pioneered new trends in audio technology for 50 years, creating innovative products that allow people to simply communicate. From unified communication solutions to Bluetooth® headsets, we deliver uncompromising quality, an ideal experience, and extraordinary service. Plantronics is used by every company in the Fortune 100, as well as 911 dispatch, air traffic control and the New York Stock Exchange. For more information, please visit http://www.plantronics.com
About Tijuana EDC: We are a nonprofit corporation dedicated to help companies to establish successful manufacturing operations in Mexico and to take advantage of business opportunities of vertical integration introducing qualified Mexican suppliers and accessing new markets. For more information on how to take advantage of these opportunities contact the Tijuana EDC at contact(at)tijuanaedc(dot)org or visit our website http://www.tijuanaedc.org