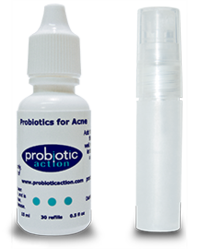 Probiotics are great for use in everything from baby food to pizza crust and toothpaste, making probiotics the best acne treatment product available.
Miami, FL (PRWEB) February 13, 2013
Just over 300,000 women in France are currently using the a commonly prescribed drug that has been used as an Acne suppression treatment for the past several years. Recently, the increase in deaths associated with the drug have lead French health authorities to suspend putting it in the hands of patients across the country, Bloomberg Reports.
Fernando Perez, a representative from Probiotic Action states, " There are many products on the market that are excellent to treat Acne, but as consumers we must be wary at the side affects. When companies list severe options like blood clots, suicidal thoughts, or death, we should ask if using such a chemical to treat a skin condition is worth our life."
While the suspension of the drug will come to fruition in three months, pharmacists are still allowed to give patients small doses of the drug until an alternative is prescribed.
As an advocate of acne research and its treatments, he urges the public to take notice of common drug side effects," Although this is a sad and serious situation, we must be reminded that many drugs on the market we use everyday put our lives at risk. When suffering from a condition like Acne, although mentally severe, and physically wearing, we must always keep our health first and seek the best acne treatment that will not harm us."
Probiotic Action is an advanced acne treatment that uses a topical probiotic containing the "good bacteria" that is naturally found on healthy human skin. By using probiotics, Probiotic Action is an effective treatment that restores the normal bacteria content on skin. Probiotic Action will successfully clear skin while protecting skin against bad bacteria, free radicals, and pollutants.
#####