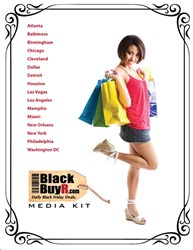 Houston, TX (PRWEB) February 09, 2013
BlackBuyr.com Announces Official Media Trade Partnership Sponsorship for MEDIA EVENT – FEBRUARY 9, 2013. Thirteenth Annual Gala Celebrating Black Military Generals.
BlackBuyr.com will be co-sponsor of The Buffalo Soldiers National Museum Media Event on Saturday, February 9, 2013, 10:00-11:00am, at 3816 Caroline to announce special activities, events and special guest appearances for its Thirteenth Annual Black-Tie Benefit Gala and Silent Auction and Scholarship Essay Contest.
The gala will be held on Friday, February 22, 2013, in the Grand Ballroom at the George R. Brown Convention Center, 1001 Avenida de las Americas, Houston, Texas 77010 at 6:30 p.m. This year's theme is "Honoring Our Military Generals." This will be an unprecedented gathering of military elite at a civilian event in the history of the United States. Twenty (20) African American two (2), three (3) and four (4) star generals and admirals from all branches of the military will be represented. The event begins with a Silent Auction, followed by a military-style program, dinner and scholarship presentation.
"We at BlackBuyr.com are much honored to co-sponsor this very important event."
This museum is the only one of its kind in the United States and highlights the achievements/contributions of African American soldiers in the defense of America. The completion of the restoration/renovation process of the landmark Houston Light Guard Armory, built in 1925, culminates the end of Phase II by finishing the second floor "Main Gallery" exhibit space. The end of Phase I has allowed the former site of the BSNM (1834 Southmore Boulevard) to transition to the Houston Light Guard Armory.
The Buffalo Soldiers National Museum (BSNM) is a 501(c)(3) nonprofit organization, founded in January 2001. The mission of the Buffalo Soldiers National Museum (BSNM) is to educate, preserve, promote and perpetuate the history, tradition and outstanding contributions of America's Buffalo Soldiers from the Revolutionary War to present. BSNM achieves its mission through its educational programs, historic research, the arts, the environment, school tours, performing arts, teacher workshops; youth outreach programs, school appearances, and exhibits. The museum creates and disseminates knowledge about the history of the Buffalo Soldiers and their service in the defense and development of America.
For questions please contact Mildred Tate at (713) 298-2471 or
mildred@buffalosoldiermuseum.com.
Media Inquiries Contact: Steven Tatum 404-391-0613
statum@3dsmultimedia.com
Founded in 2012, http://www.BlackBuyr.com currently operates as an online coupon shopping guide for all users in 16 United States cities; Atlanta, Baltimore, Birmingham, Chicago, Cleveland, Dallas, Detroit, Houston, Las Vegas, Los Angeles, Memphis, Miami, New Orleans, New York, Philadelphia, and Washington DC.
BLACKBUYR.COM is updated daily to ensure that its visitors have the most current tabs on their favorite sale items, news, and personal information.
BLACKBUYR.COM goal is to become the leading provider of African-American B2C coupon based shopping services and information over the Internet.