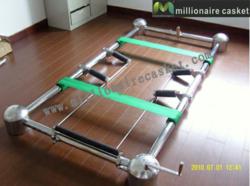 The device is a high-grade lowering device, specifically designed for lowering a casket.
(PRWEB) February 09, 2013
Recently, MillionaireCasket.com, a leading online supplier of Chinese caskets, has announced its latest product, a new casket lowering device to enrich our product line, and expand our market share as well.
The device is a high-grade lowering device, specifically designed for lowering a casket. With a 1000-pound weight capacity, it may be the most durable lowering device on the market, and is an ideal choice for lowering a casket.
Here are some details of this product:
Material: full stainless steel
Telescopes: 62"*24" to 93"*38"
Closed: 62"(L) x 25"(W)
Straps: 21' long, each tested to 400 lbs.
Loading: 900 Lb capacity.
Packing: Wooden Case
Production Capacity: 1000pcs/month
"This product is silent, stylish, and sturdily built. With a simple 'one-click' operation, it comes in a range of finishes that will add extra polish and professionalism to ceremonies," said, Zoe Wong, CEO of the company. "Moreover, it carries a 1-year warranty that covers full parts, labor and shipping expenses."
Zoe Wong adds, "With a lot of experience in the casket industry, we are happy to develop more new products for our customers. Take your time and talk over choices and options and honor your loved one by giving them the ability to have exactly what they want. That can be the best way to honor them since that's the last opportunity you may have."
About MillionaireCasket.com
MillionaireCasket.com is a leading casket manufacturer. This company offers an exquisitely crafted line of all kinds of metal caskets accessories, like wood caskets, veneer caskets, cremation caskets, rental caskets, orthodox caskets, and embalming table. The standard quality control policy is strictly applied here, and a third party quality assurance is also available.