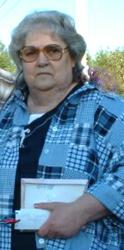 "Giving a kid food is my reward.You cant put that on no certificate or plaque, thats heart stuff"
Washington DC (PRWEB) February 09, 2013
The city of Granite Falls,North Carolina is home to one of Americas most honorable citizens according to President Obamas Council on Service and Civic Participation. Donna Hendrix a native of the Appalachian and Foothills of North Carolina will be receiving the Presidents Lifetime Achievement Award from his "Call to Service" council. Mrs. Hendrix name was one of the recipients announced for 2013 following the National Prayer Breakfast in DC February 7 in front of the White House.
According to officials, Hendrix was selected from a field of thousands of candidates amongst the councils many certifying agencies who were nominated for their humanitarianism. She was nominated by her son Dr Rick Hendrix, CEO and president of Rick Hendrix Company and Hendrix Energy, who assisted with her outreach efforts for the last decade. Rick Hendrix stated, "She has made a tremendous contribution to world hunger and healthcare through her Donna Loy Outreach Centers in Africa and educational centers in Nigeria, she advocates on behalf of those in need and has made the President and his council proud."
In 2007, Hendrix worked with her son and other leaders to establish food, water wells and educational shelters in Nigeria and parts of South Africa. "Life is hard and I know what it's like to go to bed hungry. I am not a rich woman, and I find simple thing's in life my joys. The little kids in Africa and the US have no choice in simple or fancy.They simply wake up, starve or die," stated Mrs Hendrix. Her son and grandchildren help advocate for her community learning centers, building new schools,water wells, healthcare clinics and food shelters."My mothers simple out look on a suffering world gives such organizational effectiveness. Because she has been in that disposition in our own country. She knows what poverty and sickness is like through her own trials," stated her son.
Mrs. Hendrix is no stranger to the national scene. A song written by the North Carolina native "Mamas Letters to Jesus" landed # 1 on the bluegrass charts and peaked at #14 nationally in 2003. The song was discovered by her son, Dr Rick Hendrix an established gold and platinum million selling awarded promoter and artist with a resume including work with U2,Mariah Carey,Creed, Miley Cyrus and his work as a faith guru working with Mel Gibson on "Passion of the Christ and Dreamworks "Prince of Egypt" and serving as a faith advisor for Hillary Clinton.
"My mothers music speaks to the heart and soul like only an Appalachian momma can do.You cant create the simplicity and deep rooted hurt and enlightenment her writings can bring." The single was nominated for song of the year at the Gospel Music Associations "Dove Awards" and made first round entries to the 2004 Grammy Awards. The song went on to become a book and was projected to hit the bestsellers list and short list for the Pulitzer in 2004 but was delayed and later cancelled due to her sickness and inability to travel and support a national book tour.
The Donna Loy Hendrix Outreach clinics and shelters are her way of reaching the world. "I wanna reach them,hug them and give them the chance I almost missed in my own life. I am honored to receive the award, but my rewards are not in awards, its in seeing the faces of these babies when they drink a clean glass of water, or watch them eat a candy bar for the first time. You cant put that on your plaques, certificates or pieces of paper, thats in your heart. And thats where I wanna live," stated Mrs Hendrix.