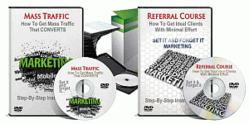 According to the New York Times 65% of new business comes from referrals.
Los Angeles, CA (PRWEB) February 11, 2013
World Class Media has released a new Referral Marketing Course. This release coincides with WOMMfest 2013, a one-day collaboration to honor word of mouth referral marketing.
According to the New York Times 65% of new business comes from referrals. Perhaps most of your business has come in from referrals. Additionally, Nielsen [an information gathering service] reports that customers are four times more likely to buy when referred by a friend or a trusted colleague.
Video: http://www.youtube.com/watch?feature=player_embedded&v=5QVWq1rpESU
Charles John Verhoeff, CEO of World Class Media says: "This training is a step-by-step coaching program designed to take any business through statistically proven techniques to increase referrals and word of mouth."
"As shown in this World Class Referral Marketing Course there is a force here that can be harnessed to bring in more business and the amazing thing about this new course is that it can be coached. It can't really be taught, but it can be coached. And cultivate an amazing amount of referrals…"
"You have to have a referral system, so that you consistently get referrals No matter what else is going on you must have a formalized sequential process of multiple referral sources. Like a knob on a Radio dial you should be able to turn your system up when you need more business and turn it down when you are to busy – the aim is stress free-abundance."
He says, "You want referrals, because they have the lowest cost, have the least risk, and have the highest leverage and highest potential payoff of any of the different ways to acquire new customers."
The Vice President, Edwin Dearborn says: "What is unique about the World Class Media course is that it is divided into one hour segments with over 56 short videos recorded by the Vice President [Edwin Dearborn] guaranteed to delight in walking a CEO or Marketing Director through the exact steps. Each weekly segment concentrates on only one essential element which is then developed until it can be used to get more leads."
While most small business owners have used referrals to build their business, they don't have it down to a science. They know they have gotten good business from referrals but they haven't worked out just how that happened or how they can do it again. The Referral Course from World Class Media is more a Science than an Art. Charlie breaks it down into the essential components that are needed for success.
The reality is that customers are more demanding and more aware of the competitive landscape than ever before," says Osinski, a sales expert at San Diego State University. "What every client is really looking for is help," he says. "If you can identify that need and meet it, then you're a problem solver, not a salesman. The relationship, Roberts stresses, is every bit as important as the sale."
Conclusion
Growing a business is not an easy task, for the sales function is time consuming. There is a need to fill the sales funnel with qualified prospects on a regular basis. These do not come from cold contacts but instead from building a strong referral process.
If you would like more information, or to schedule an interview, visit World Class Media (dot) com or e-mail charles (at) worldclassmedia (dot) com.