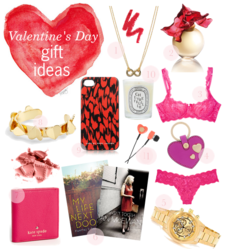 Gift guide for selecting a unique gift for a successful Valentine's Day
(PRWEB) February 12, 2013
Valentine's Day is a time for expressing sentiments of love, adoration and appreciation. For choosing the best and unique Valentine's Day gifts, Consumer Guide's experts are working hard for selective listing, hourly updates about Valentine's Day gifts on their website.
Chocolates
Chocolate is the standard V-Day gift, and it's easy to see why. It's rich, creamy and muy delicioso. Not to mention it's an aphrodisiac. There's a reason chocolate is the candy of love and Sour Patch Kids aren't. But not all chocolates are created equal. Skip the drugstore variety and go for a high-end chocolate like Godiva, Leonidas or Teuscher. With cocoa content at 70%, these designer creations are much more decadent than average chocolate. If that's still a little too traditional, try chocolate body paint. Sensuous makes three different yummy flavors, including mint-chocolate, white-chocolate macadamia and chocolate raspberry.
Fragrance
Perfume can be super-tricky, as every woman has a different preference when it comes to smell. Try Curve Appeal by Elizabeth Arden. It's a heady, sexy mix of mandarin, violet, apple, nectarine, jasmine, iris, amber, sandalwood and vanilla.
Fancy Sheets
High-thread-count sheets are considered a luxury, not a necessity, which is exactly why they make the most perfect Valentine's Day gift. Every woman wants to be pampered and seem a bit fancy. Once the two crawl underneath the covers, it will be worth every penny. Plus, this is the gift that gives back; with sheets like these, she'll never want to get out of bed. Look for Egyptian cotton in at least an 800 thread count.
Flowers
Flowers are a natural choice for lady love on Valentine's Day, and a pretty safe bet when all else fails. Unlike other gifts, flowers are appropriate, dating her for one day or one year. And there are no calories involved. Stick to the classics like roses, or, if she's not a traditionalist, go for something exotic like lilies or orchids. FTD has all needs covered, and it can deliver to her home or office.
Sexy Body Products
Set the mood for love with sexy products that pamper her body and arouse her. Kama Sutra is known for the sheer variety of kits and products that serve as the ultimate in foreplay. Gift sets like the Weekender Kit and Strawberries & Champagne Treasure Trove will get her treasure trove hot and bothered. Or try Lust Dust Body Powder. This delicious lickable powder will make it that much more easy to lick her hot body.