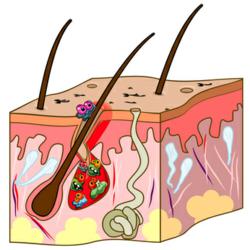 Probiotics are great for use in everything from baby food to pizza crust and toothpaste, making probiotics the best acne treatment product available.
Miami, FL (PRWEB) February 20, 2013
The Huffington Post has teamed up with some of the countries' best skin care professionals to debunk some "facts" about the relation between food and acne. While the article states that foods like chocolate and greasy foods may not necessarily be to blame, skin care professionals do admit that what we eat does have an effect on the way our body produces chemicals.
Rachelle Wood, a Holistic Nutritionist featured in the article, reminds us that, " Your skin is the largest organ," adding, "[Consuming] Foods that spike your blood sugar levels can also push your body into making extra insulin" which has been linked to excess oil and chemical creation which can eventually clog pores.
Fernando Perez, a representative for Probiotic Action, points out that being mindful to intake plenty of greens, and lean protein help the body to maintain a more constant PH balance. Hydrating the body, and providing the proper nutrients allows all of our organs to work properly, eating greasy foods and sweets not only slows down our internal organs, but affects our external as well.
" There is no one treatment for acne. Your diet, what cleansers you use, or what shampoo you wash your hair with- even how often you change your bedding affects acne formation," Says Perez. Probiotic Action urges those with skin conditions to do their research on what bacteria and oils are causing the acne, and reflect on their lifestyle choices to battle the condition coupled with the best acne treatment for your skintype.
Probiotic Action is an advanced acne treatment that uses a topical probiotic containing the "good bacteria" that is naturally found on healthy human skin. By using probiotics, Probiotic Action is an effective treatment that restores the normal bacteria content on skin. Probiotic Action will successfully clear skin while protecting skin against bad bacteria, free radicals, and pollutants.