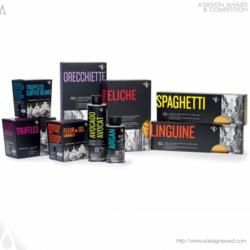 Como, Italy (PRWEB) February 10, 2013
Packaging Design Competition Platinum A' Design Award Winner
A' Award and Competitions are encouraged to announce that the work Black Label by Creative Director Jason Hobson and Designer Buffy Liu has been awarded with the famed Platinum A' Design Award in Packaging Design Category marked as one of the winners by the respected judging committee of the A' Design Awards & Competitions within numerous designs.
More information on Black Label
Jason Hobson, the creative mind behind the winning work Black Label demonstrates "The contemporary use of color and industrial typography is juxtaposed against custom photographed black-and-white imagery that communicates the provenance of each product by capturing origin or old world preparation methods. The bold and colorful industrial typography on the black background provides unique personality and immediate brand recognition while enabling variety differentiation among larger sub-families. The result: a creation of sophisticated and distinctive brand & package design."
Creative Team for Black Label
Black Label was designed by Creative Director Jason Hobson and Designer Buffy Liu.
The Platinum A' Design Award
The Platinum A' Design Award is a prestigious award given to top 1% percentile designs that has attained an exemplary level of sublimity in design. The designs are judged by a panel of three different jury which is composed of Academic, Professional and Focus Group Members. The designs are evaluated with score normalization to remove any biases and are voted on aspects such as functionality, ergonomics, engineering, presentation, innovation, usability, fun details, technology, and any other specific points that could be considered, each of these points are further weighted for different jury groups.
About A' Design Award and Competitions
A'Design Award and Competitions, aims to highlight the excellent qualifications of best designs, design concepts and design oriented products. A' Design Award and Competitions are organized and awarded annually and internationally in multiple categories to reach a wide, design-oriented audience. To learn more visit: http://www.whatisadesignaward.com