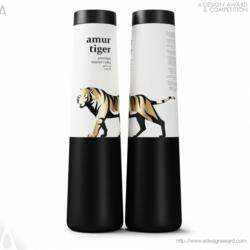 Como, Italy (PRWEB) February 09, 2013
Packaging Design Category Platinum A' Design Award Prizewinner
A' Award and Competitions are delighted to share that the work Amur Tiger by Guilherme Jardim, Vladimir Pospelov, Fábio Vieira and Pedro André has been honored with the famed Platinum A' Design Award at Packaging Design Competition highlighted as the winner by the international jurors of the A' Design Awards & Competitions among thousands of projects.
About the Amur Tiger
Guilherme Jardim, the creator of the awarded design Amur Tiger explains "This is an unique glass bottle for a premium vodka. Our client asked us for a totally different approach to the vodka packaging panorama. He wanted something special, different than what you usually see on the shelves and on the night clubs. He wanted something really trendy that would appeal to a young modern cosmopolitan public. We designed a simple but different exclusive bottle, with simple but visually strong graphics. The bottle is made out of glass, painted in matte black with golden graphics. The result was a different, cosmopolitan and eye-catching vodka bottle, which stands out on a shelf or on a table, as a different, special product."
Project Members for Amur Tiger
Amur Tiger was made by Guilherme Jardim, Vladimir Pospelov, Fábio Vieira and Pedro André
The Platinum A' Design Award
The Platinum A' Design Award is a prestigious award given to top 1% percentile designs that has achieved an exemplary level of perfection in design. The designs are judged by a panel of three different jury which is composed of Academic, Professional and Focus Group Members. The designs are evaluated with score normalization to remove any biases and are voted on aspects such as functionality, ergonomics, engineering, presentation, innovation, usability, fun details, technology, and any other specific points that could be considered, each of these points are further weighted for different jury groups.
About A' Design Award and Competitions
A'Design Award and Competitions, aims to highlight the excellent qualifications of best designs, design concepts and design oriented products. A' Design Award and Competitions are organized and awarded annually and internationally in multiple categories to reach a wide, design-oriented audience. Learn more: http://www.whatisadesignaward.com