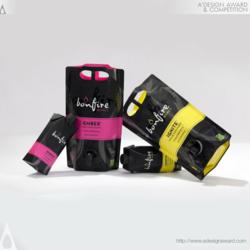 Como, Italy (PRWEB) February 09, 2013
Packaging Design Category Golden A' Design Award Victor
A' Award and Competitions are pleased to announce that the work Bonfire by Eric Steigelman became winner of the famed Golden A' Design Award in Packaging Design Category marked as one of the winners by the respected judging committee of the A' Design Awards & Competitions among thousands of projects.
Concerning Bonfire
Eric Steigelman, the creator of the awarded work Bonfire demonstrates "The wine market is experiencing a shift due to changes in product appeal as Millennial and Generation X consumers demonstrate their discerning taste. There is a new appreciation for a fresh approach to communicating creativity and vibrant alternatives in the marketplace. Bonfire Wines is dedicated to innovation in this market by offering high quality wines in convenient packaging at a great value to the customer."
The Golden A' Design Award
The Golden A' Design Award is a prestigious award given to top 3% percentile designs that has delivered an exemplary level of quality in design. The designs are judged by a panel of three different jury which is composed of Academic, Professional and Focus Group Members. The designs are evaluated with score normalization to remove any biases and are voted on aspects such as functionality, ergonomics, engineering, presentation, innovation, usability, fun details, technology, and any other specific points that could be considered, each of these points are further weighted for different jury groups.
About A' Design Award and Competitions
A'Design Award and Competitions, aims to highlight the excellent qualifications of best designs, design concepts and design oriented products. A' Design Award and Competitions are organized and awarded annually and internationally in multiple categories to reach a wide, design-oriented audience. Learn more at: http://www.whatisadesignaward.com