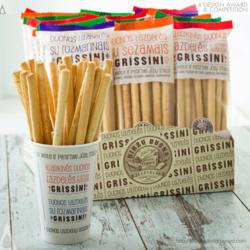 Como, Italy (PRWEB) February 11, 2013
Packaging Design Competition Golden A' Design Award Victor
A' Award and Competitions are happy to inform that the project Birzu Duona – Grissini by Edvardas Kavarskas, has been announced as a winner of the renowned Golden A' Design Award at Packaging Design Competition highlighted as the winner by the international jury panel of the A' Design Awards & Competitions within a great number of designs.
More information on Birzu Duona – Grissini
Edvardas Kavarskas, the lead designer of the awarded work Birzu Duona – Grissini explains "During the creation of package design we tried to create homelike and modern design, attractive for young customers looking for new tastes and appreciating naturalness and healthy life-style. The axes of package design became the game of typography and merry stories of ingredients supplemented with interesting graphical elements and bright colors. Beside the major packages the secondary package for the products was designed and approved. Furthermore, paper cup for tasting of gourmet food in shops, wine-bars, restaurants and culinary studios was designed."
Team Members for Birzu Duona – Grissini
Birzu Duona – Grissini was designed by Designed by Edvardas Kavarskas, photo by Robertas Daskevicius and photo style by Virtuves Mitu Griovejai
The Golden A' Design Award
The Golden A' Design Award is a prestigious award given to top 3% percentile designs that has achieved an exemplary level of sublimity in design. The designs are judged by a panel of three different jury which is composed of Academic, Professional and Focus Group Members. The designs are evaluated with score normalization to remove any biases and are voted on aspects such as functionality, ergonomics, engineering, presentation, innovation, usability, fun details, technology, and any other specific points that could be considered, each of these points are further weighted for different jury groups.
About A' Design Award and Competitions
A'Design Award and Competitions, aims to highlight the excellent qualifications of best designs, design concepts and design oriented products. A' Design Award and Competitions are organized and awarded annually and internationally in multiple categories to reach a wide, design-oriented audience. Learn more: http://www.whatisadesignaward.com