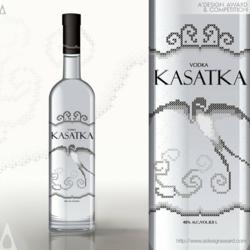 Como, Italy (PRWEB) February 11, 2013
Packaging Design Category Golden A' Design Award Medalist
A' Award and Competitions are proud to tell that the project Kasatka by Anastasia Smyslova has been honored with the noteable Golden A' Design Award at Packaging Design Competition picked as the winner by the international jurors of the A' Design Awards & Competitions amidst a great number of nominations.
Insights on Kasatka
Anastasia Smyslova, the creator of the winning work Kasatka says ""KASATKA" was developed as a premium vodka. Feature of the design is minimalist, both in the form of a bottle, and in the colors. A simple cylindrical bottle and a limited range of colors (white, shades of gray, black) emphasize the crystalline purity of the product, elegance and style in a minimalist graphical approach."
The Golden A' Design Award
The Golden A' Design Award is a prestigious award given to top 3% percentile designs that has carried out an exemplary level of quality in design. The designs are judged by a panel of three different jury which is composed of Academic, Professional and Focus Group Members. The designs are evaluated with score normalization to remove any biases and are voted on aspects such as functionality, ergonomics, engineering, presentation, innovation, usability, fun details, technology, and any other specific points that could be considered, each of these points are further weighted for different jury groups.
About A' Design Award and Competitions
A'Design Award and Competitions, aims to highlight the excellent qualifications of best designs, design concepts and design oriented products. A' Design Award and Competitions are organized and awarded annually and internationally in multiple categories to reach a wide, design-oriented audience. Learn more: http://www.whatisadesignaward.com