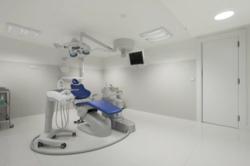 David had not smiled for 15 years...
Hove, East Sussex (PRWEB UK) 11 February 2013
David Bryant, a member of the charity Blind Veterans UK, was nominated for a new set of teeth, after the Brighton Implant Clinic decided to search for somebody who deserved a new smile.
After filtering through hundreds of applications, the dental practice decided on David, who was nominated by two colleagues and a patient. David's hard work and commitment to ex servicemen who have lost their sight in conflict earned him the opportunity to smile with confidence again.
"After visiting David at work and seeing how he interacted with patients and staff, it was apparent that he is a much-loved character," said Bruno Silva, leading dental surgeon at the Brighton Implant Clinic.
"At the beginning of the year we ran a competition via Facebook for one lucky winner to win a brand new set of teeth, in the form of an all-on-4 procedure, a treatment that ranges in cost from £6,500 to £15,000. After sorting through hundreds of stories, one man caught our eye."
David started to lose his teeth 15 years ago because of an accident and bad experiences with dentists. Before his treatment he only had a few top teeth left, and friends and family felt that David had low self-esteem due to his appearance.
David's treatment consisted of extractions and all-on-4 implants. After a straightforward procedure and pain controllable with paracetamol, David left the clinic with new teeth, and above all, a new lease of confidence.
"I used to always avoid smiling," said David. "My teeth were in a really poor state before my treatment, which meant I didn't smile like I wanted to.
"I'm overwhelmed to have been nominated for implants and I can't stop looking in the mirror at my new teeth," he added.
Brighton Implant Clinic is an award winning East Sussex dental practice with clinics in Hove, Hailsham and Brighton.