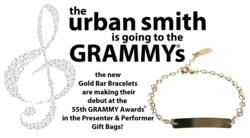 "I am really excited to be a part of the GRAMMY Gift Bags this year. It will be so amazing to have my product in the hands of so many talented artists," said Molly Cruit, The Urban Smith's Founder and Chief Designer.
San Francisco, CA (PRWEB) February 10, 2013
San Francisco, CA - The Urban Smith, a San Francisco-based fine jewelry company obsessed with simple elegance, announces the launch of their new line of Gold Bar Bracelets in the 55th Annual GRAMMY Awards® Gift Bags.  Gift bags will be presented to celebrity presenters and performers such as Carrie Underwood, Miranda Lambert, Taylor Swift and Rihanna to name a few. Music Biggest Night® will take place live on Sunday, Feb. 10, at STAPLES Center in Los Angeles and will be broadcast in high-definition TV and 5.1 surround sound on the CBS Television Network  from 8 – 11:30 p.m. (ET/PT).  
Following the continuous success of the brand's Gold Nameplate Necklaces and Word Bar Rings, the Gold Bar Bracelets were a natural evolution to the brand.   I mean why let your neck and hands have all the fun! Each bar is hand cut and forged by The Urban Smith in their quaint little San Francisco Studio.  Each letter is individually stamped, and every element down to the cards and packaging are all designed and created by this little smith in the city.  
The Urban Smith brand has grown tremendously over the last several months. Featured in boutique San Francisco shops and in tradeshows and fairs in San Francisco, Los Angeles, and Chicago, the brand was recently featured on Fab.com where The Urban Smith merchandise sold out in days. Celebrity, Aisha Tyler, has purchased and wears The Urban Smith on her show The Talk. She has personally directed customers to the brand site via Twitter and Facebook.
All items are fired, formed, and fabricated in San Francisco.  Her motto "just smith' in it" conveys the easy nature and attitude of this line
For more information or to schedule an interview with Molly Cruit please contact molly(at)theurbansmith(dot)com or call 415-857-4136.
Just a little smith in the city.
###