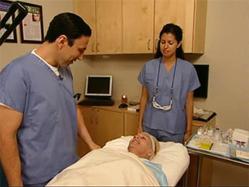 Los Angeles, California (PRWEB) February 09, 2013
Created by Beverly Hills cosmetic dermatologist Simon Ourian, M.D., Epione Beverly Hills offers his Signature Series skin care line. On January 18, 2013, Dr. Simon Ourian, Founder and Medical Director of Epione Beverly Hills, appeared on ShopNBC and in only minutes sold out their entire stock of his Signature Series Eye Crème and Lash Therapy.
"I created my Signature Series of skincare products so that I could make available, over-the-counter, products of the highest quality," says Dr. Ourian. "Prior to the debut of the Signature Series line, the creams that I'd developed were available only by prescription to the clientele of my Beverly Hills office. I believe these products are key to helping our clients address their sun damage, dark circles, and fine lines and wrinkles"
Dr. Ourian goes on to explain that the key ingredient in his Lash Therapy is myristoyl pentapeptide-17, an eyelash enhancer. It also has anti-aging, anti-inflammatory, and anti-bacterial qualities. Lash Therapy is prostaglandin free; prostaglandin has known side effects including irritation and skin hyperpigmentation. Lash Therapy helps restore, repair and fortify one's own lashes naturally. It's safe for sensitive eyes as well as for contact lens wearers.
The second product Dr. Ourian discussed during his ShopNBC appearance was his Signature Series Eye Crème. The delicate skin around the eye area has few oil glands; therefore it is beneficial to apply the Eye Crème daily to keep it hydrated. This helps to reduce dryness and puffiness while minimizing fine lines and wrinkles.
The Signature Series Eye Crème also reduces the appearance of puffiness, dark circles, and under eye bags. It's formulated with vitamins A, E, and K to strengthen the delicate eye area and encourage the production of collagen and is fortified with a powerful peptide-complex helps to reduce puffiness and bags under the eyes.
"I appreciate the forum that ShopNBC affords me to present my products on a national basis," says Dr. Ourian. "I believe, and the sales evidence, that the American public is searching for solutions to their skin care needs."
Dr. Ourian has been a pioneer of laser technology and non-invasive aesthetic procedures including Restylane, Botox, Juvéderm, Radiesse and Sculptra. These treatments are used for the correction or reversal of a variety of conditions such as acne, acne scars, skin discoloration, wrinkles, stretch marks, varicose veins, cellulite, and others. More information about Epione Skincare can be found on their website.