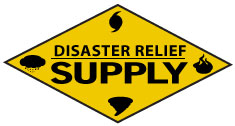 Destin, FL (PRWEB) February 11, 2013
For internet retailer "Disaster Relief Supply", the recent winter storm NEMO is another reminder that the average American does not prepare for disasters. Employees at Disaster Relief Supply have since been urging customers to prepare early by offering pre-season deals, and spreading a message of "preparedness" online.
The winter season is all but over, but the spring, summer, and fall, bring tornadoes, hurricanes, and heavy rains. To prepare home and business owners, DisasterReliefSupply.com is currently offering a 10% discount on all Hydrabarriers. The Hydrabarrier is a sandbag alternative created to provide a reusable, durable, and low maintenance flooding solution. Along with Hydrabarriers, Disaster Relief Supply provides free shipping on all generators, and buckets of emergency food. These discounts are meant to persuade customers into preparing for disaster that cause widespread power outages and limit supermarket food supplies.
Social Media has been used by Disaster Relief Supply in the past for multiple purposes including announcing new products, deals, and online promotions. Recently, DRSupply has been using their social media presence on facebook and twitter to release information on preparedness, and disaster recovery.
Winter storm NEMO left 6 people dead, and hundreds of thousands without power. The effects of this storm were disastrous, but could have been mitigated with proper supplies. Disaster Relief Supply will continue their push for disaster preparedness throughout the rest of the spring in hopes of preparing otherwise unwitting citizens for a disaster.