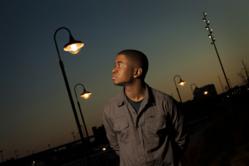 Kenal looks to establish himself as a recording artist whose name will carry a lot of weight.
Los Angeles, California (PRWEB) February 10, 2013
With the biggest night in music hours away the talented young rising musician called Kenal (K-nAl) looks to captivate many during the highly recognized and praised award show honoring the world's top musicians; the Grammy Awards. With a featured spot in the 55th Grammy Awards souvenir book thanks to Doug Beaudoin, the unsigned artist looks to silently captivate the A&R's, performers, producers, and record companies as well as agencies with his presence in the arts.
Kenal is a very diverse talent and all-around artist. From singing and songwriting to graphic design, photography, composing poetry as well as blogging he is skilled in an array of artistic mediums. To be able to express oneself and do it effectively along with precision is something this artist takes much pride in and to the next level. Although not everyone is capable of being a Renaissance man and practice everything almost perfectly, this talent certainly was blessed with many gifts to fascinate listeners and viewers with his work.
With his own company Kenalsworld LLC and blog launched in 2010, Kenal looks to establish a brand as well as an image both online and in the media as a young entertainer as well as entrepreneur. When asked by Don E Productions founder and president Donnie Osborne a former rep for MTV, Arista Records and V2 Music "Who influences you in music?" Kenal responded "The musicians that have inspired me to become an artist and make music that will move and touch people are the likes of Babyface, Boyz II Men, Michael Jackson, Brian McKnight, Mary J Blige, and Luther Vandross to name a few."
On his website the artist also mentions being influenced by producers along with international artists the likes of Cornielle, Celine Dion, Enrique Iglesias and Alejandro Sanz. With a current mixtape entitled "Washed Away" available for download among the R&B Datpiff mixtapes online, Kenal share his free music project with hopes of signing a major record deal soon.
Understanding that musicians have become even more the face of many brands and companies Kenal looks to establish himself as a recording artist whose name will carry a lot of weight. Having as much as this artist have to offer such as painting unique artworks, songwriting, and blogging creating opportunities for other artists. Kenal demonstrates the knowledge in marketing along with promotion that he developed over the past years while currently the age of 22.
One of the other skills that the artist showcase on his website kenalsworld.com is his great eye for capturing unique and well composed photography of fashion, musicians, models and events. The artist even have another website called Picturesphotographer.com that he display his fashion photography, which features photographs from the Omaha Fashion Week captured in the fall of 2012 as well as some models he collaborated with as a photographer.
Experience Kenal's world of music, art, and design by visiting Kenalsworld.com
KENALSWORLD LLC
Eden Louis
Co-Founder & Writer
Tel: 561.351.9224
Email: info(at)kenalsworld(dot)com
Web: http://www.kenalsworld.com
DON E PRODUCTIONS
Donnie Osborne
Founder & President
Charity: DP Outreach
Skype: doneozz
Cell 203-613-3950
Email: d.osborne(at)doneproductions(dot)com
Web: http://www.doneproductions.com